What is

HubSpot Service Hub?
HubSpot  Service Hub is one of five hubs included in the Hubspot CRM platform. The customer service software assist you in managing and enhancing customer support inquries and processes. Equipped with various automation tools and features, the service hub simplifies customer service operations, and imporve your customers satisfaction and loyalty.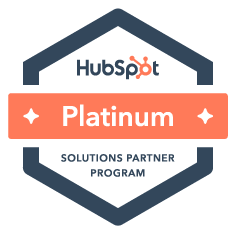 HubSpot Service Hub
How does HubSpot Service Hub work?
HubSpot Service Hub is a complete customer service solution that is a part of the HubSpot CRM Platform, which also include the Sales Hub, Marketing Hub, Operation Hub, and CMS Hub. The Service Hub is more than just a support software because it offers an all-in-one solution that make it possible to easily manage customer inquiries and issues, and enhance customer experience.
Packed with various features and tools, the Service Hub offers different solutions, including free, starter, professional, and enterprise. These solutions offer features such as ticketing, live chat, knowledge base, automation, and reporting. More about that later!
Shortly, The HubSpot Service Hub make it possible to easily manage processes related to customer service, and improve collaboration between teams.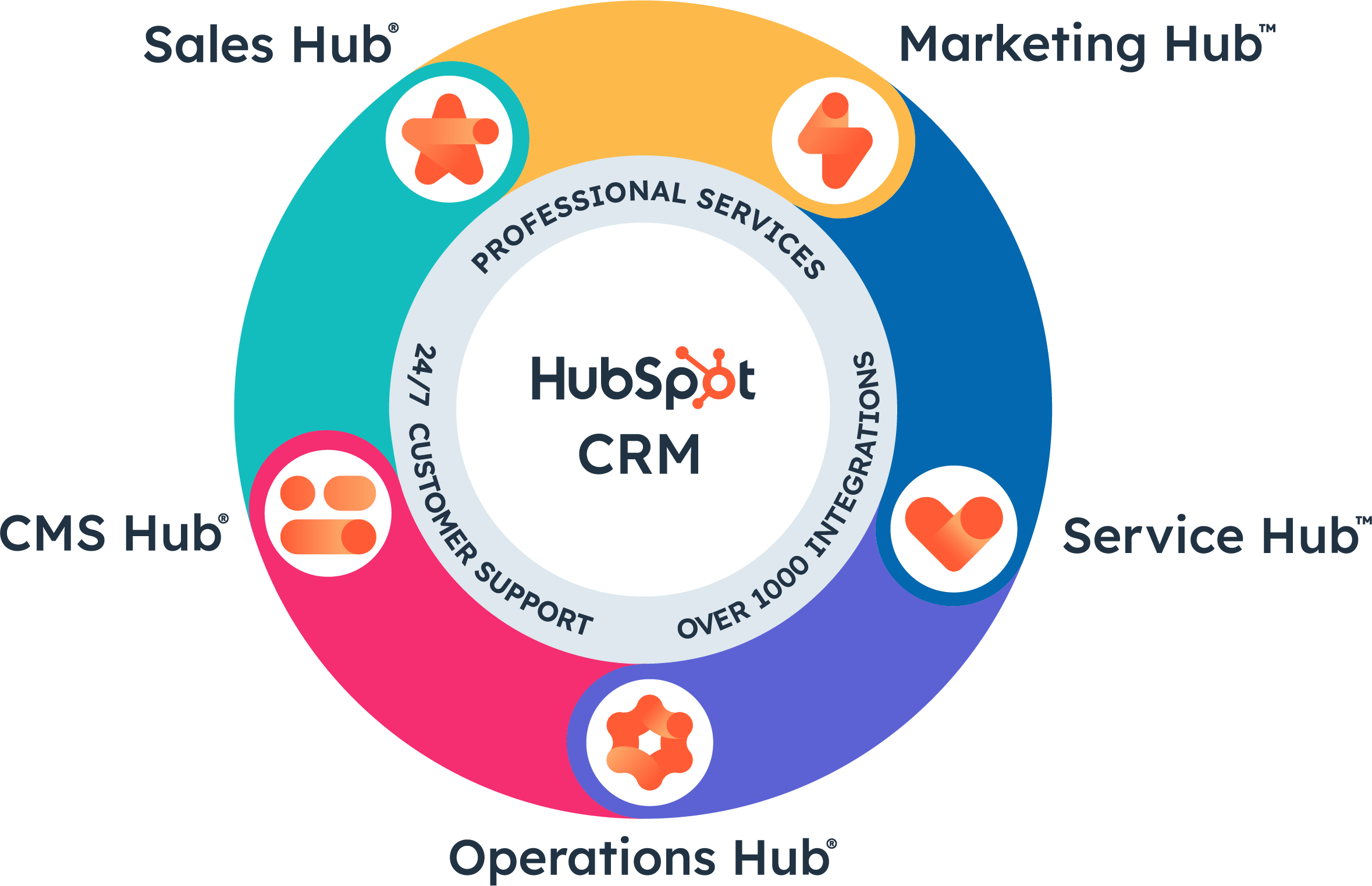 Get the Ultimate HubSpot Platform
Get the 3 golden steps to implement the Ultimate HubSpot Platform. Download the free guide made by the Top HubSpot Partner in the Nordics.
HubSpot is a powerful platform that can help businesses create sustainable growth and manage their marketing, sales, and customer service activities.
Implementing HubSpot can be a complex process, and it is important to have a clear strategy and place in place to get the most out of the platform.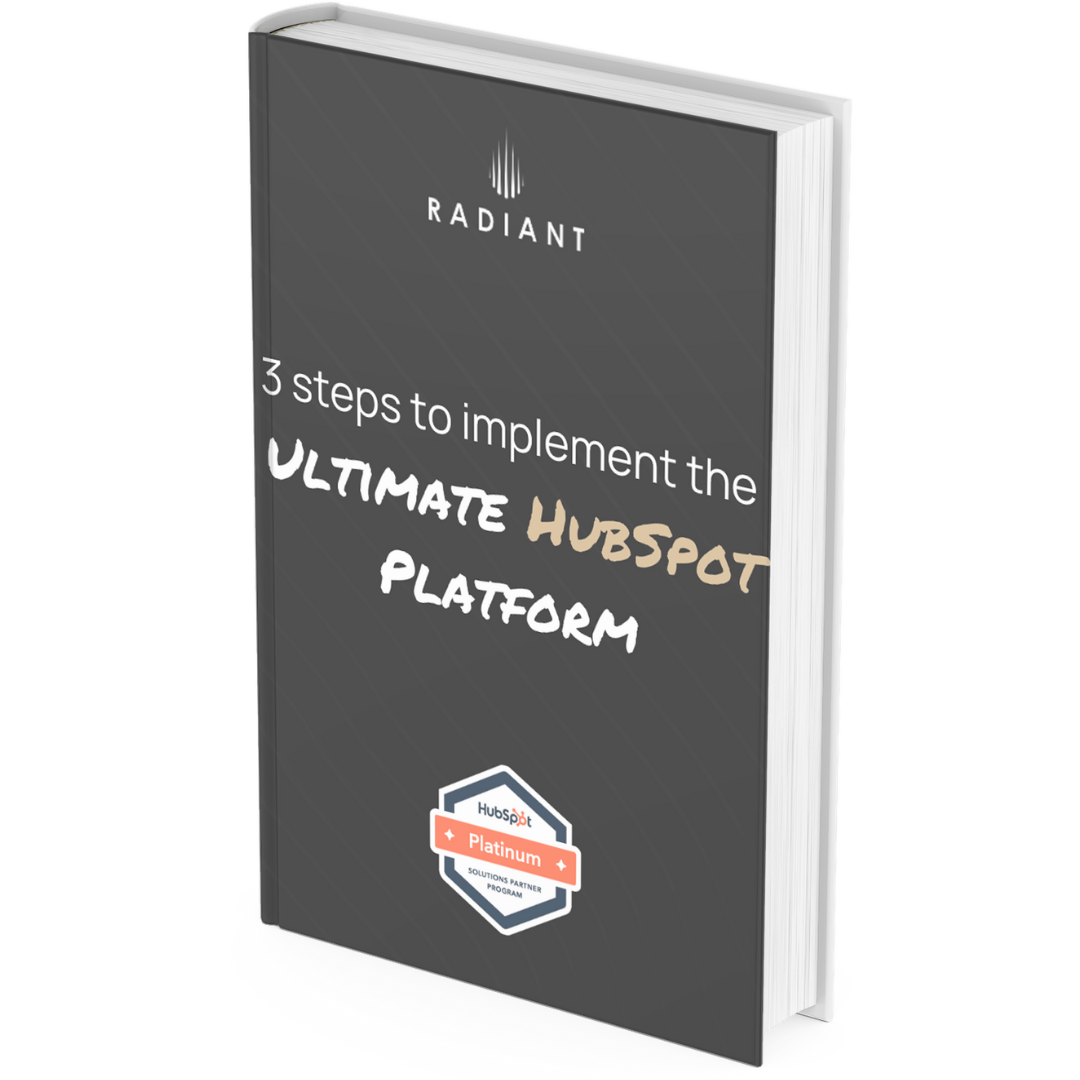 HubSpot Service Hub Solutions
Which Solutions do HubSpot Service Hub offers?
HubSpot Service Hub presents four unique plans – Free, Starter, Professional, and Enterprise – each is designed with its own range of features, tools, and limitations. To assist you in selecting the plan that best fits your requirements, we have outlined a summary of the most crucial features below.
It's important to note that some features may be limited, even if they are included in a specific plan. For example it's only possible to make five of the feature 'canned snippets' in the free version, were you have 5,000 in the professional version. Get a full overview here.
Looking for the perfect plan? It can be difficult to choose the right plan, which is why many ask a HubSpot Partner like Radiant for guidance. Our team can help you identify the plan that matches your needs. So, if you need help, don't hesitate to reach out.
HubSpot Service Hub Free
Want to test the Service Hub or is your does it fit your needs? Luckily for you t HubSpot offers a free version of the Service Hub. With these free tools, you have access to variety features, that can help you manage your service efforts more efficiently. Note that some feature are limited, Here are some of the most important ones included in the Free version:
Canned snippets: Create pre-defined answers to common inquries

Channel switching:

 Enable customer succes to switch from live chat, to Facebook or email.
Email templates: Create standard email templates for your team to use

Documents:

 Storage your documents inside HubSpot
1-to-1 email: Send personalized emails to a specific contact
Reporting dashboard: Get insights into data such as customer feedback, response time and more.

User management:

 Remove and add users from your HubSpot
Slack integration: Integrate slack for communication
And much more…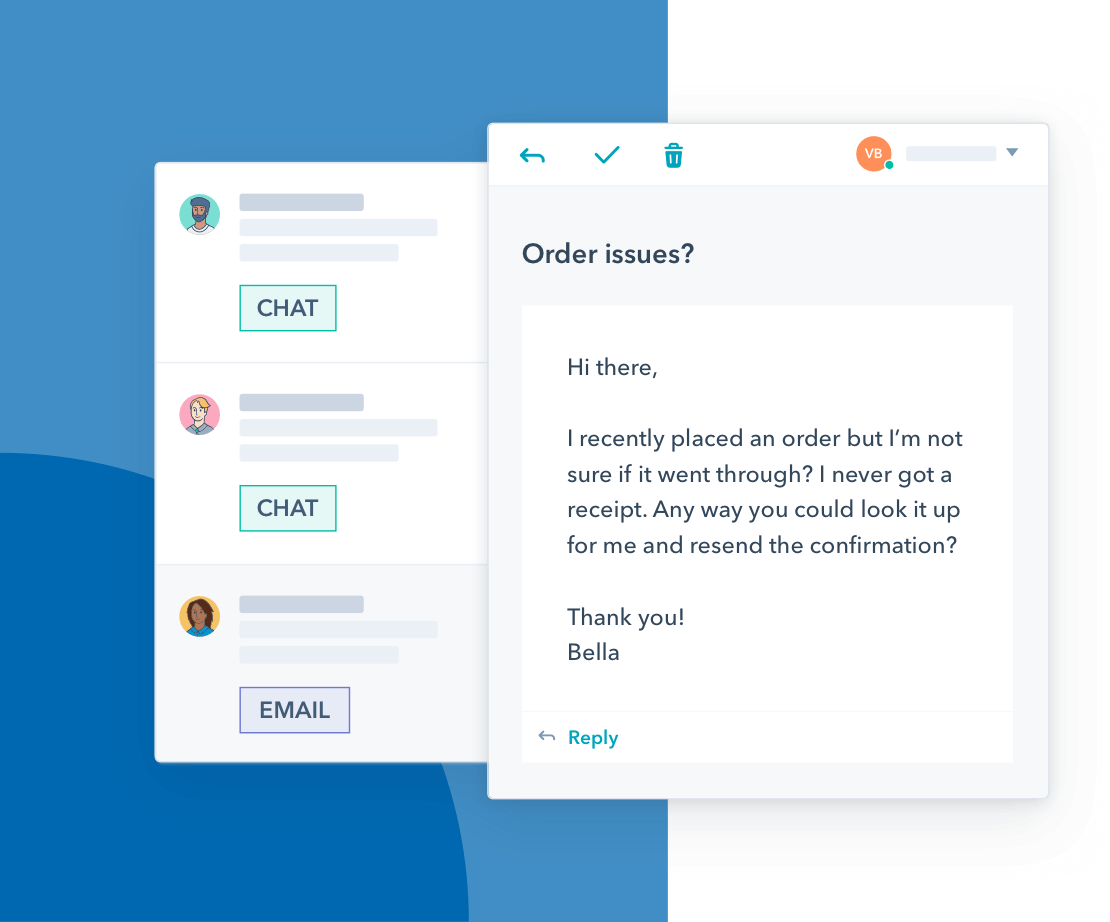 HubSpot Service Hub Starter
Want more features? Then you can upgrade to the Service Hub Starter solution.  At the same time, enjoy all the same features as the free version, but with fewer limitions. For example, you will have now have 5,000 snippets instead of five.
All features from Free 
Requried fields: Make fields required to ensure you have the right data


Repeating tasks and task queues:

 Make tasks automatically to repeat

1:1 technical support:

 Get live support in-app or through email
Conversation routing: Assign conversation to the members you want automatically
Multiple currencies: Get up to five different currencies to personalize the currency for a specific market

HubSpot-provided phone numbers:

 Get your own phone number (not supported in all countries)

Calling:

 Take call directly from your HubSpot and receive calls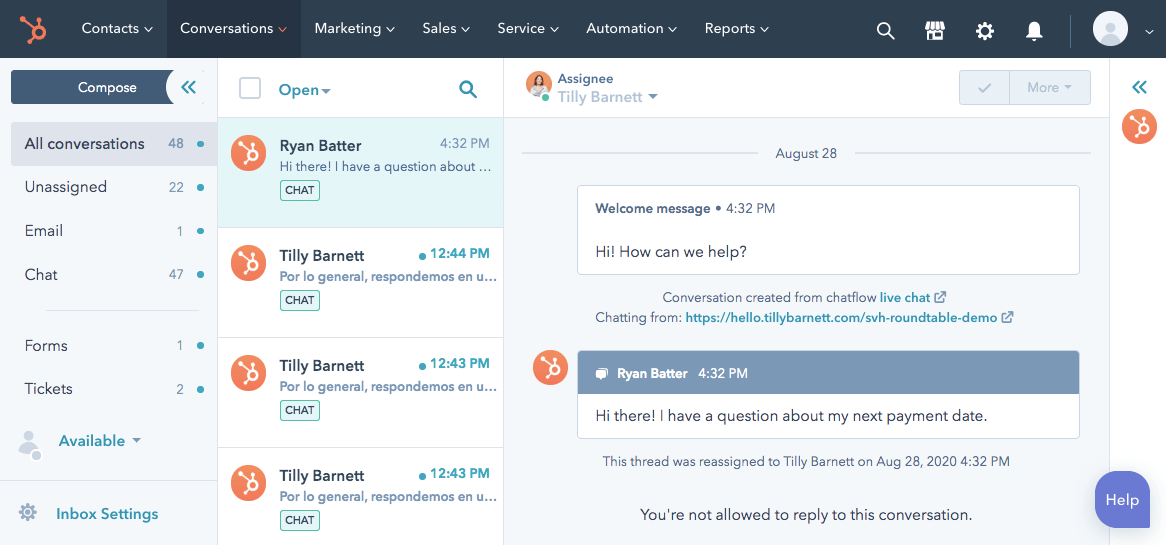 HubSpot Service Hub Professional
Upgrade to the Service Hub Professional and take you customer succes efforts to next level. You will gain eccess to advanced features, such as 1:1 video messaging and increase limitations on features such as multiple currencies, snippets etc. However, here is the features in the professional package:
All features from Starter
Agent presence in inbox: See when there is another working on the same ticket as you

Playbooks: Create up to five, in order to share knowledge and best practices in your team

1:1 video messaging:

 Create videos to help customers, you can add them to emails or embed them in articles.
Customer feedback surveys: Create customer satisfaction, net promoter score and customer effort score surveys.
SLAs: Create metrics for your customer succes team like "time to close" or "time to first reply"
Knowledge base: Create a forum for your most asked questions.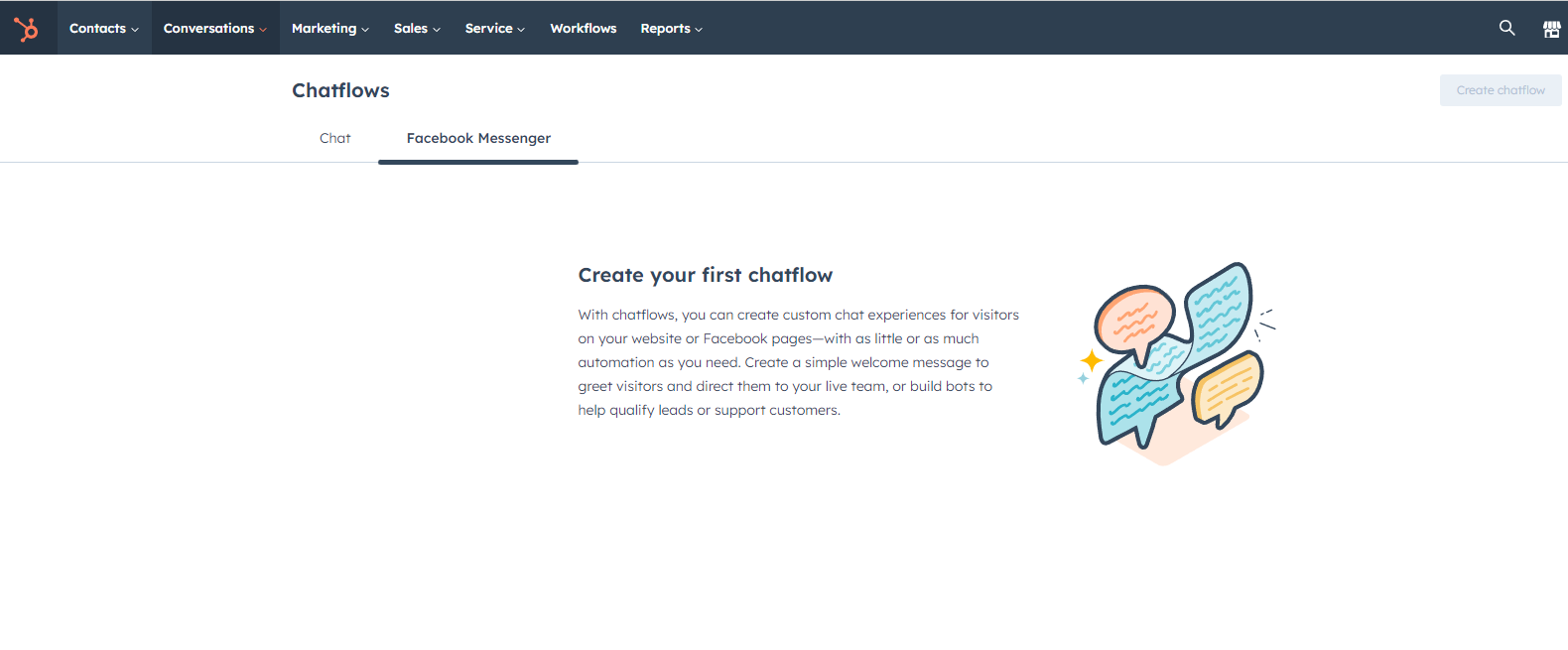 HubSpot Service Hub Enterprise
Get the full package with the Enterprise solution. By choosing Enterprise, you get full access to HubSpot's complete service offerings. All features from the professional solution is included, as well as advanced features as listed down below:
All features from Professional
Recurring revenue tracking: Make detailed reports about which customer renewals and churn.

Log in as another user:

 As super admin you have the acces to log-in as another user
Conversation intelligence: Use AI to get insights from your teams calls
Sandboxes: Test and build your customer experience before making it live

Admin notifications management:

 Choose to get notifications for useres on your account.

Field-level permissions:

 Choose which users have access to specific properties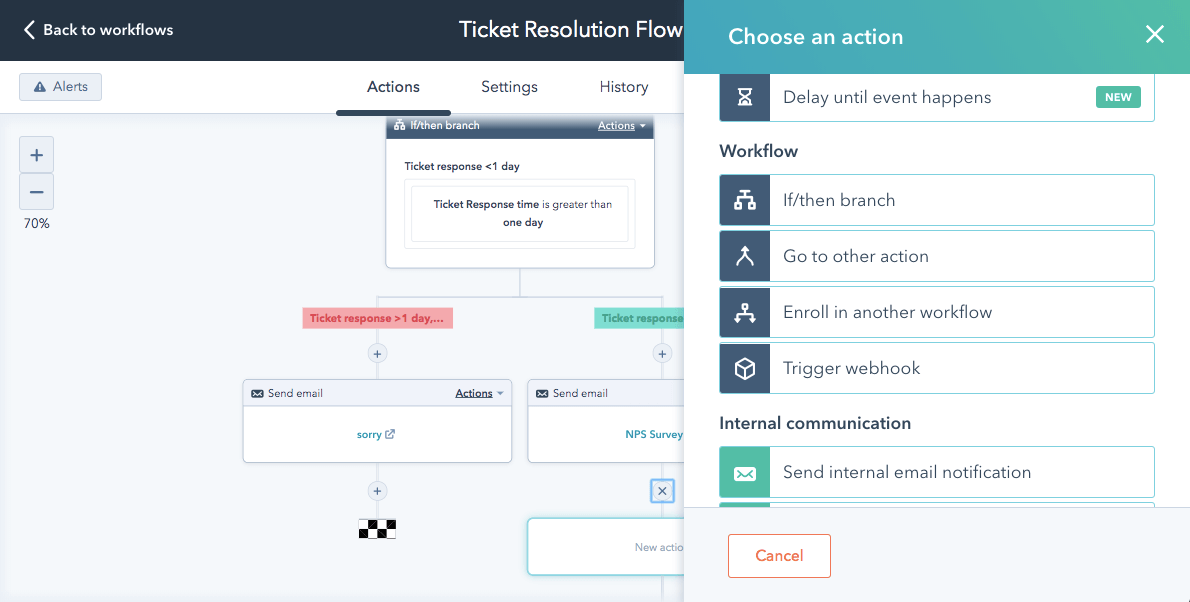 Pricing
HubSpot Service Hub Pricing
Take a look at the following overview of pricing plans and some the included features. It's important to note that prices and feature limitations may change, so be sure to contact a HubSpot Partner or check HubSpot's website for at full overview of current features and pricing.
All features from Free

includes 2 paid users

Live chat

Meeting scheduling

Simple ticket automation

Conversation routing
All features from Starter

Includes 5 paid users

Service analytics

Playbooks Customer portal

Customer feedback serveys

SLAs

Post-chat feedback
All features from Professional

includes 10 paid users

Admin notifications managament

Custom objects

Conversation intelligence

Single sign-on
In each package you have the opportunity to buy additionally paid users.
Choosing the right CRM system is difficult, if you are confused about the pricing plans, features, and limitations – don't hesitate to reach out! As a five star rated HubSpot Partner, we help you to get the right hubs and versions matching your needs – and we will get the best prices and deal structures. 
The Ultimate HubSpot Service Hub
How to get the most out of HubSpot Service Hub?
To fully utilize the capabilities of HubSpot's Service Hub, it's a must to have a proficient team in place. Fortunately, the HubSpot Academy offers a variety of complimentary courses, webinars, and certifications to enhance your knowledge. If you're seeking even more customized assistance and solutions, collaborating with a Certified HubSpot Partner such as Radiant is advisable. We specialize in tailoring the platform to meet your unique requirements and offer the most competitive pricing. With the guidance of a certified trainer, you'll be able to effectively implement the platform and achieve your objectives.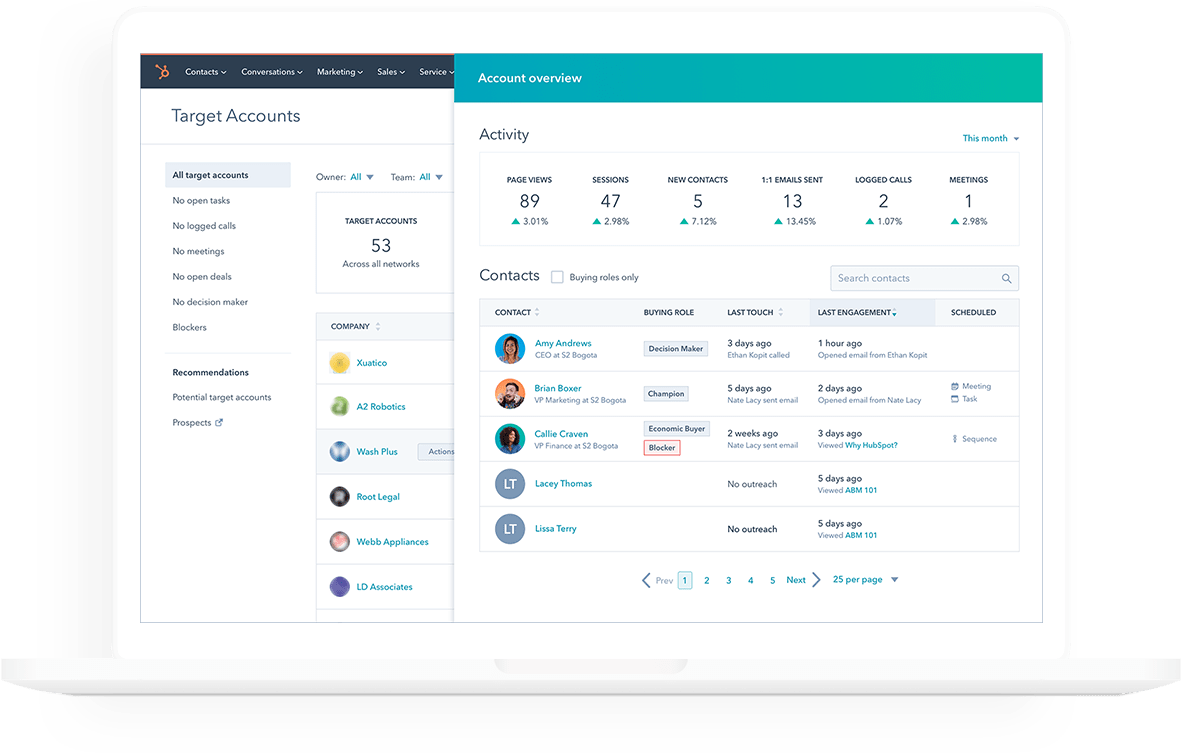 Who is Radiant?
We scale businesses
We implement industry-leading HubSpot Platforms. Because we've accumulated thousands of datasets from actual sales and marketing, we know what works in the Nordic market.
We practice what we preach: we don't just tell you what to do. We actually do it for you. 
R

We implement! enable! scale! The ultimate HubSpot platform

R

Leading HubSpot Partner with +25 HubSpot Certifications & 5/5 stars

R

B2B Sales as a Service with record-breaking ROI results

R

Founded in 2017. In 2023 we're +30 employees in DK and NO.

R

Purely for B2B
Download B2B Sales tools
Best practice to enhance B2B Sales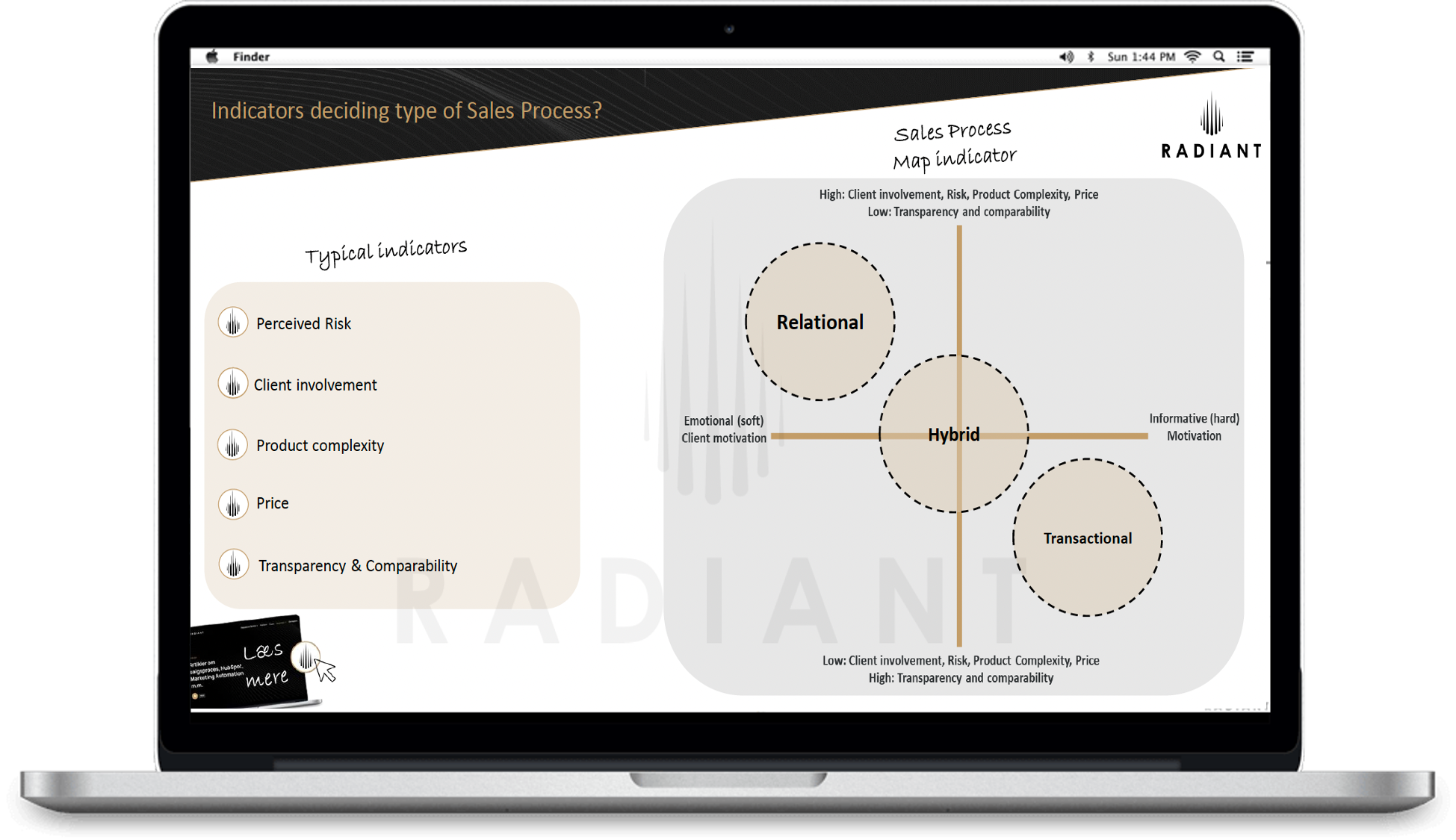 Hybrid Sales Process Template
Hybrid sales is the most succesful way of doing sales. It is the combination of multi-channels, transactional sales and relational sales.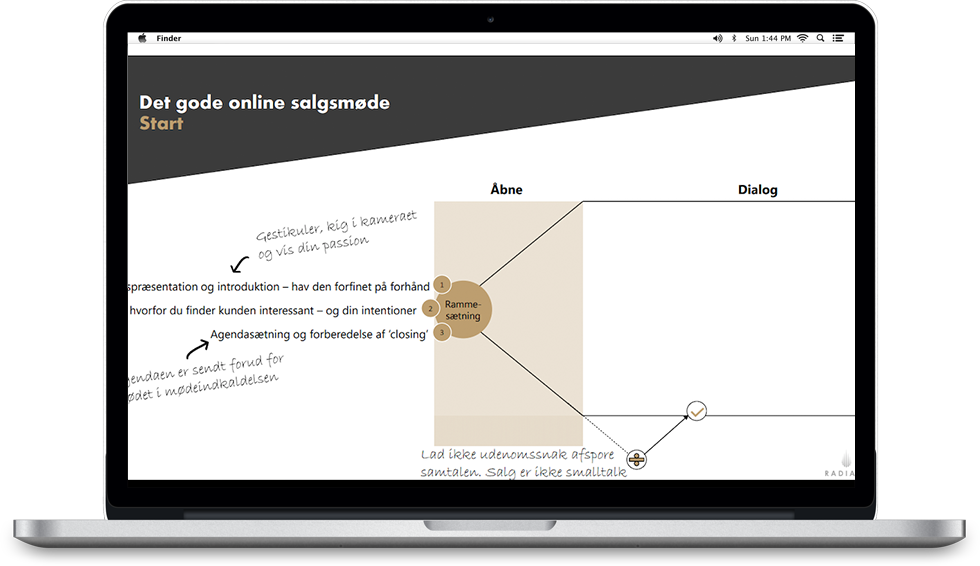 Enhance your online sales meetings
We provide you with the best practice structure and framework to have succesful online sales meetings with the optimal outcome.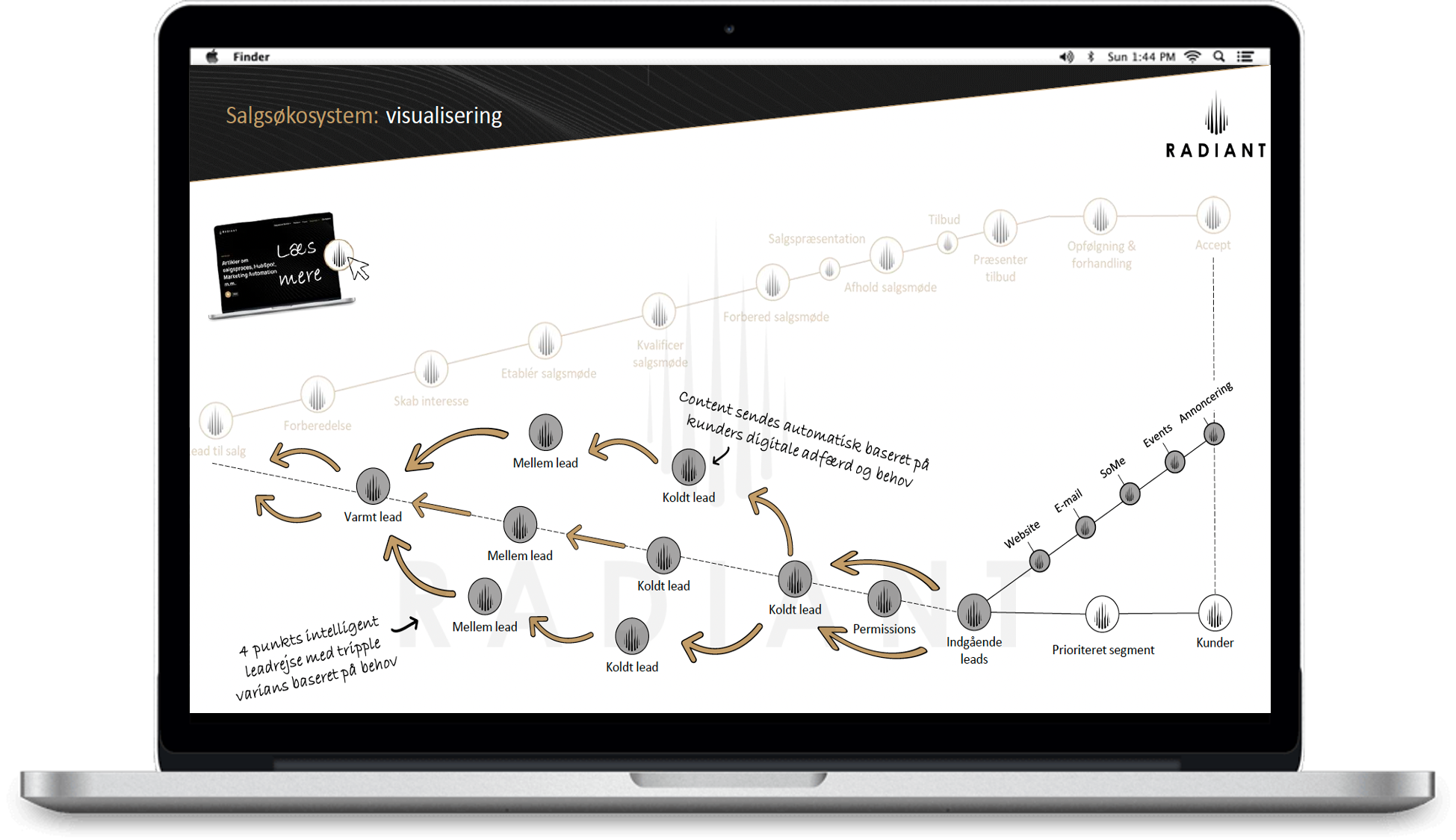 Lead Development Framework
Understand how you design effective marketing funnels by using this simple Lead Development Framework applied in HubSpot. 
Articles about B2B sales and HubSpot mastering
Learn about B2B sales, Sales as a Service, sales processes, HubSpot Implementation, HubSpot enablement, HubSpot integrations and how to utilize a HubSpot Partner etc.