In this article we will go through Hubspot dashboards, what is it, why use them, how to use them, who it's relevant for and our recommendations on the feature.
What is HubSpot Dashboard?
HubSpot Reporting Dashboard is a powerful tool for businesses looking to track their growth and performance. As a leading HubSpot partner in the Nordics, Radiant can help businesses implement the right reporting dashboard to boost their results and drive growth.
Why is HubSpot Dashboard Useful?
HubSpot Reporting Dashboard is the ultimate solution for businesses that want to scale their operations and achieve high-performance results. The dashboard function allows businesses to track a wide range of metrics, including website traffic, lead conversion, and customer data. This allows businesses to see exactly how their efforts are paying off, and make informed decisions about how to improve their performance.
One of the key benefits of using HubSpot Reporting Dashboard is that it allows businesses to see the big picture. By tracking a wide range of metrics, businesses can see how all of their efforts are coming together to drive growth. This can help businesses identify areas that are underperforming, and take steps to improve them.
In addition to giving businesses a comprehensive view of their performance, HubSpot Reporting Dashboard also makes it easy to drill down into specific areas. This allows businesses to see how their individual marketing campaigns, sales reps or markets are performing and make adjustments to improve their results.
How to Use HubSpot Dashboards
To use HubSpot Reporting Dashboard, businesses first need to log in to their HubSpot account. From there, they can access the dashboard by clicking on the "Reports" tab in the top menu. Once on the dashboard, businesses can choose from a range of pre-built reports, or create their own custom reports using the various filters and options available.
To create a custom report, click on the "Create Report" button in the top right corner of the dashboard. From there, select the metrics they want to track and use the filters to narrow down data to the specific time period and other criteria of interest. Once the report is created, it is ready for future use and is shareable with teams in HubSpot.
Who Uses HubSpot Dashboards?
One specific example of how a SaaS company might use HubSpot Sales Reporting is to track and analyze the performance of their sales reps. By setting up custom reports and dashboards in HubSpot, the company can see how each rep is performing in terms of the number of deals they are working on, their win rate, and the average size of their deals.
Using this data, the company can identify top performers and identify areas for improvement for underperforming. For example, if a rep has a low win rate, the company might look at their sales process to see where they might be losing deals and provide additional training or support to help them improve. Additionally, the company can use the feature to track the overall performance of its sales team. For example, they might notice that their win rate is lower in certain industries or that they have a higher rate of deals getting stuck at a certain stage of the pipeline. By analyzing this data, the company can make informed decisions about how to optimize its sales processes and drive better results.
Click here to read more about how Radiant utilize the benefits of HubSpot
Is HubSpot Dashboards Difficult to Use?
Is HubSpot Reporting Dashboard difficult to use? Not at all! The dashboard is designed to be user-friendly, with an intuitive interface and step-by-step guides to help businesses get started. Even those with little experience using reporting tools can quickly learn how to create and use custom reports.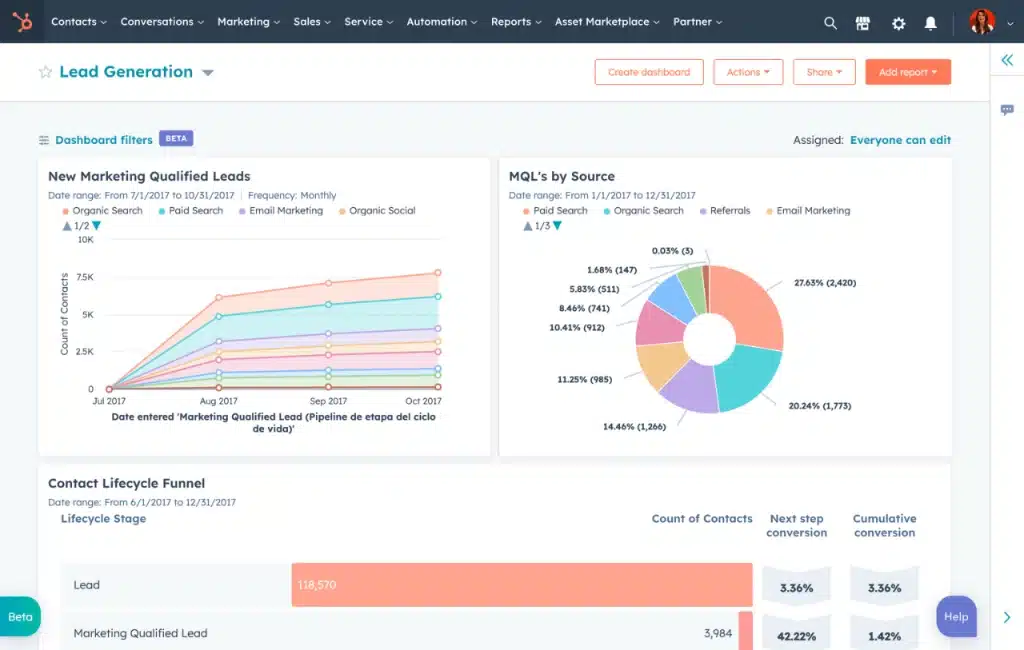 Radiant Results
As a leading HubSpot partner in the Nordics, Radiant can help businesses implement the right HubSpot Reporting Dashboard for their needs. Our team of experts has years of experience helping businesses of all sizes use HubSpot to drive growth and improve their performance. With Radiant's help, businesses can get the most out of their HubSpot Reporting Dashboard, and achieve the high-performance results they are looking for.
Radiant Rating and Recommendation
6/10 – quite good! Always use the basic reporting possibilities. The more advanced options' relevance depends of other tools in your tech stack that hold relevant data to report on and reporting tools.
Requirements:
Depends on the aspects wished to report on and a number of dashboards and individual reports. The minimum requirement is a Starter Hub. You can head to our Sales Hub page to see the features of each Sales Hub package.