About Radiant
We are Radiant 
Radiant literally means 'Glowing brightly and expressing great hope'. Our clients call us "HubSpot-Ninjas" and "Sales Excellence Champions". You can call us anytime.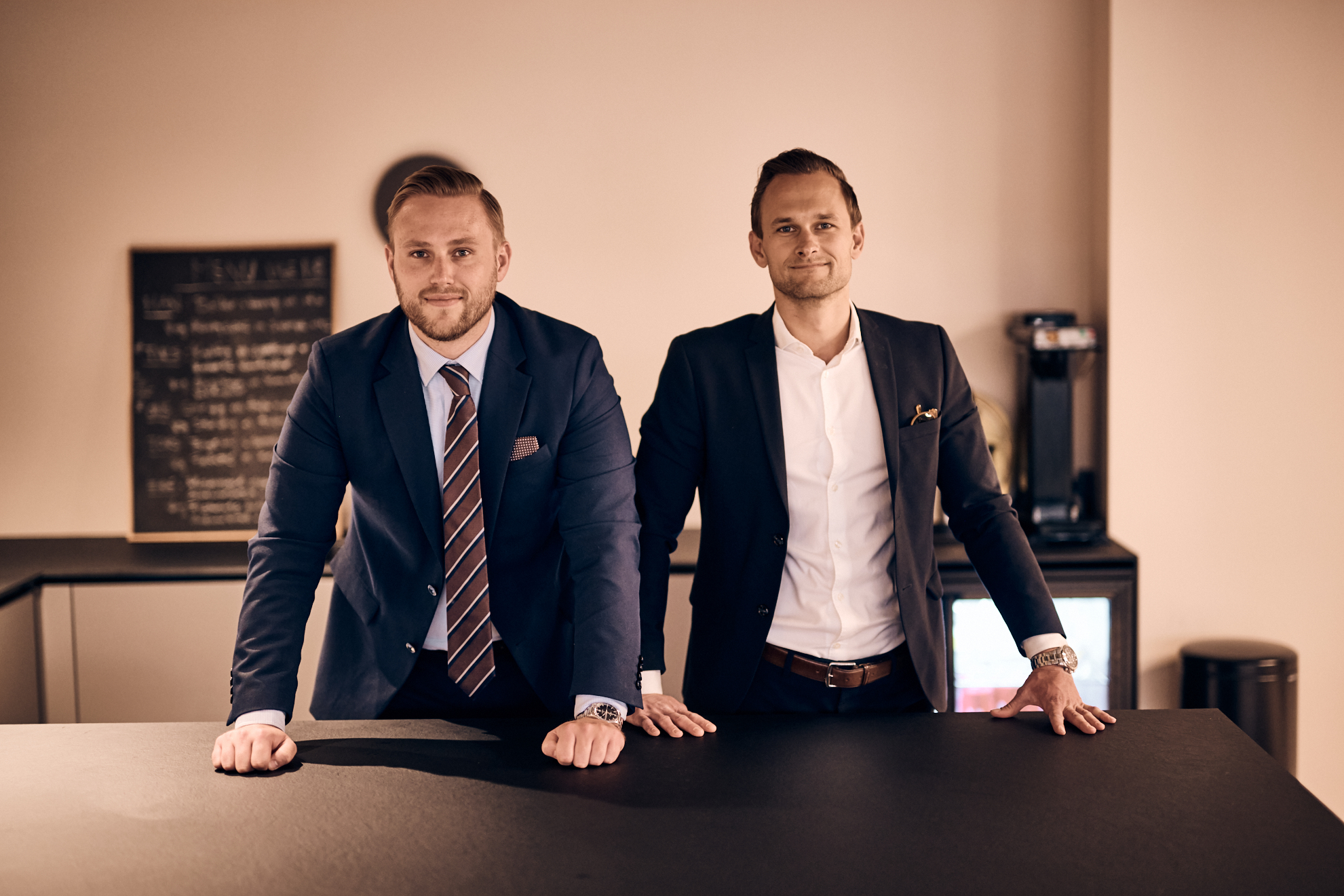 Creator & Market Leader of 2 categories: 'Sales as a Service' & 'HubSpot as a Service'
Radiant was founded in Copenhagen late 2017 by former Deloitte Senior Consultants Joakim Steenfos (left) & Kasper Bjerggaard (right) with a vision of generating Sustainable Growth through Sales as a Service for B2B SaaS, Finance, Tech, and Professional Services.
From analyzing hundreds of businesses in the Nordics we discovered that HubSpot was the most successful CRM & Growth platform. We phased out our Salesforce, Dynamics, and Pipedrive efforts. Instead we decided to fully integrate HubSpot into our own business as well as into our Sales as a Service concept in 2020.
As a result we generated record-high Sustainable Growth on behalf of our clients and Radiant quickly became one of the highest ranked HubSpot Partners. We expanded to Norway, Sweden, Finland, Germany, and UK.
Since then we've accumulated millions of datasets from real and successful Sustainable Growth – and thats why we actually know what works.
In 2022 we did our beta and tested our groundbreaking concept: HubSpot as a Service. With +20 purely 5/5 star client reviews and great endorsements from our partners like HubSpot, Plecto, Lasso X, Contractbook, and Vainu our testing was a huge success.
Therefore we officially launched HubSpot as a Service 1st of May 2023 and we're now able to offer both enablement and execution to drive Sustainable Growth.
Radiant is located in Copenhagen and Oslo with 31 employees and an EBITDA of 3.2 million DKK in 2022. As a result for our rapid growth we also recieved a 'Gazelle Award' from BØRSEN for being one of the fastest growing companies in Denmark 2022.
We practice what we preach becuase we do what works.
Official Top HubSpot Partner
HubSpot Platforms that Grows with you
R

+100 HubSpot Hub implementations

R

+25 official HubSpot Cerfications

R

+20 Official 5/5 stars HubSpot client reviews

R

Official HubSpot Certified Trainer

R

Official Top Ranked HubSpot Partner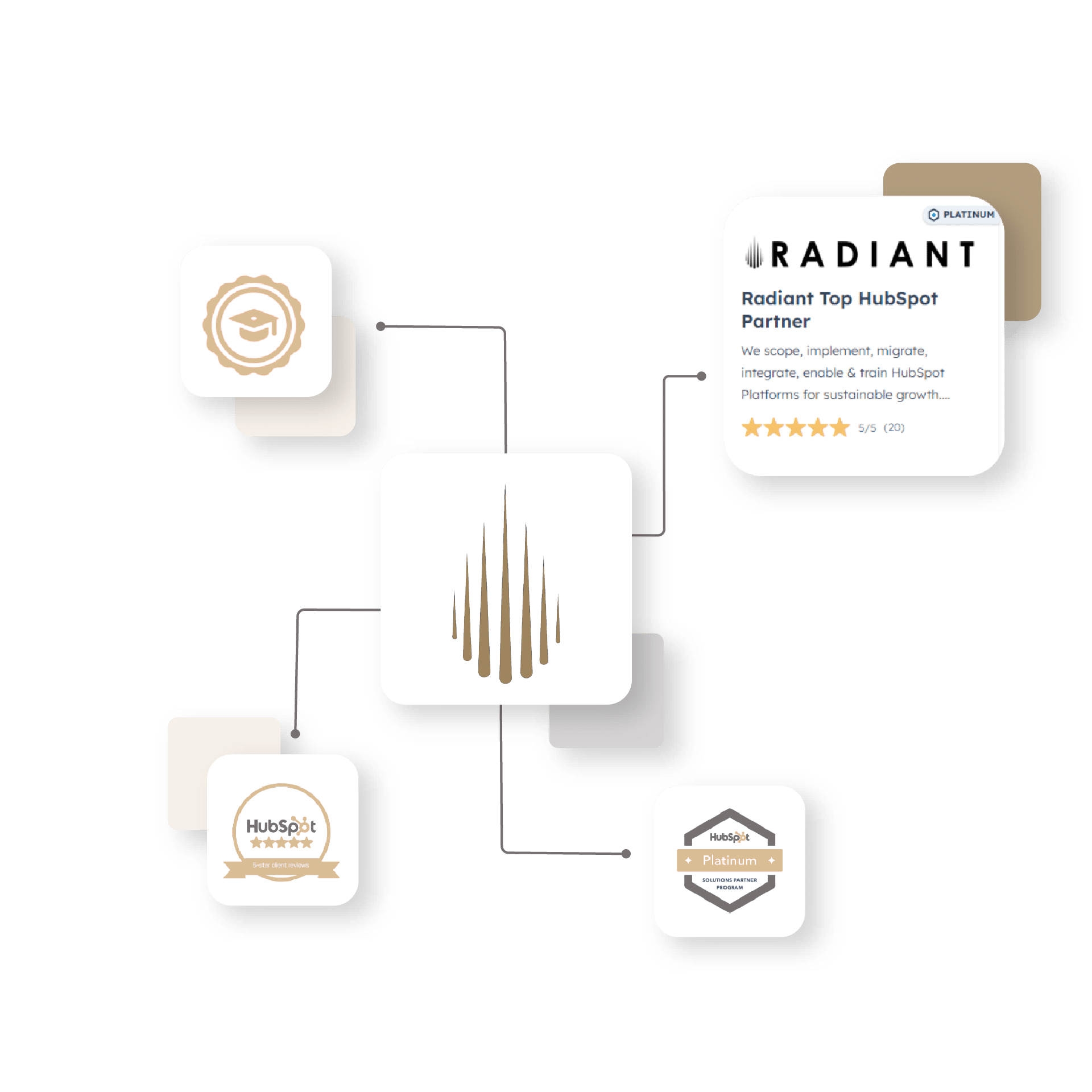 Sales as a Service
High  Performance with Sales as a Service
Exclusively for SaaS, Tech, Finance, and Professional Services.

Exclusively for Business-to-Business.

Exclusively for clients adopting/using HubSpot
Million ARR, DKK generated
Average deal size, ARR, DKK
Avarage client months ROI
Regions: Nordics, DACH, UK
HubSpot Statistics
Why HubSpot?
HubSpot was ranked #1 Global Software Company in G2 Rankings

HubSpot has +177.000 clients in over 120 countries.

HubSpot has more than 7.433 employees globally
Integrations within the HubSpot CRM Platform
Number of 1# Rankings got HubSpot (most of all)
Made by HubSpot in total revenue in 2022
Number of 1# Rankings got HubSpot Marketing Hub (most of all)
Our values
Triple Engagement
At Radiant, we believe in the trinity of engagement. We have to commit ourselves as individuals to an engagement category every day. Thus, enabling Triple Engagement in all categories as a team.