Fully implemented in 2-4 weeks
Best-in-class HubSpot
Scoping HubSpot plans and Hubs
Negotiating HubSpot deals & pricing
Implementing Funnels & Pipelines
Data Migration & CRM Architecture
Integrating HubSpot with your tech
Best practices for marketing, sales, & CS
Enable HubSpot & Team for growth
360° Funnels & Playbooks to convert clients
Gamification, Dashboards & Reporting
Segmentation & ICP to know who to target
Training, support, & onboarding best-practices
Data Migration & system Integrations
Partial outsourcing of sales to specialists
Sustainable B2B sales execution
Proven & Educated B2B sales specialists
Defining & Prospecting target market
Booking & Qualifying sales meetings
Managing pipeline
Winning deals
Technical & Practical HubSpot experts
Top Official HubSpot Partner
5/5 stars in official HubSpot rating
+30 HubSpot Certifications
+50 implemented HubSpot platforms
HubSpot Certified Trainer
HubSpot Certified Partner

"Radiant is a true Sales Excellence Champion."


"Have shown state of the art sales performance."


"I recommend Radiant as HubSpot Partner."

Onboarding and HubSpot Implementation
Implement HubSpot
Within 2-4 weeks a HubSpot 360° Platform will be fully implemented and operational. This includes scoping, negotiation, design, implementation, data migration, training, and much more. 
R

360° Funnel Design & Implementation

R

CRM Architecture & Data Enrichment

R

Data Migration & Integrations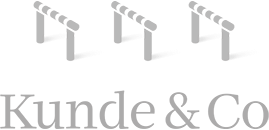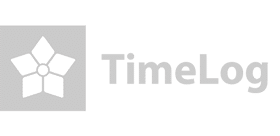 Enable HubSpot
HubSpot as a Service
You invest in HubSpot, people, marketing, sales and customer success.
Now you can finally profit by enabling it all. With HubSpot as a Service you know exactly what you get and what you pay.
R

Implementation & Automation

R

Enablement, Best Practices, and Integrations

R

AI, Onboarding, Training, and Support



B2b Sales Execution
Sales as a Service
Exclusively for B2B SaaS, Tech, Finance, and Professional Services.
Our Sales Consultants represent your business to do sales: prospect, qualify leads, book, meetings, manage pipeline, and win deals. 
R

Proven, native, & educated Sales Consultants

R

Low risk with overhead based on revenue generated

R

We do what works: +55 million ARR & +7.000 meetings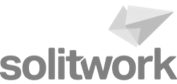 Official Top HubSpot Partner
HubSpot Platforms that Grows with you
R

+100 HubSpot Hub implementations

R

+30 official HubSpot Cerfications

R

+25 Official 5/5 stars HubSpot client reviews

R

Official HubSpot Certified Trainer

R

Official Top Ranked HubSpot Partner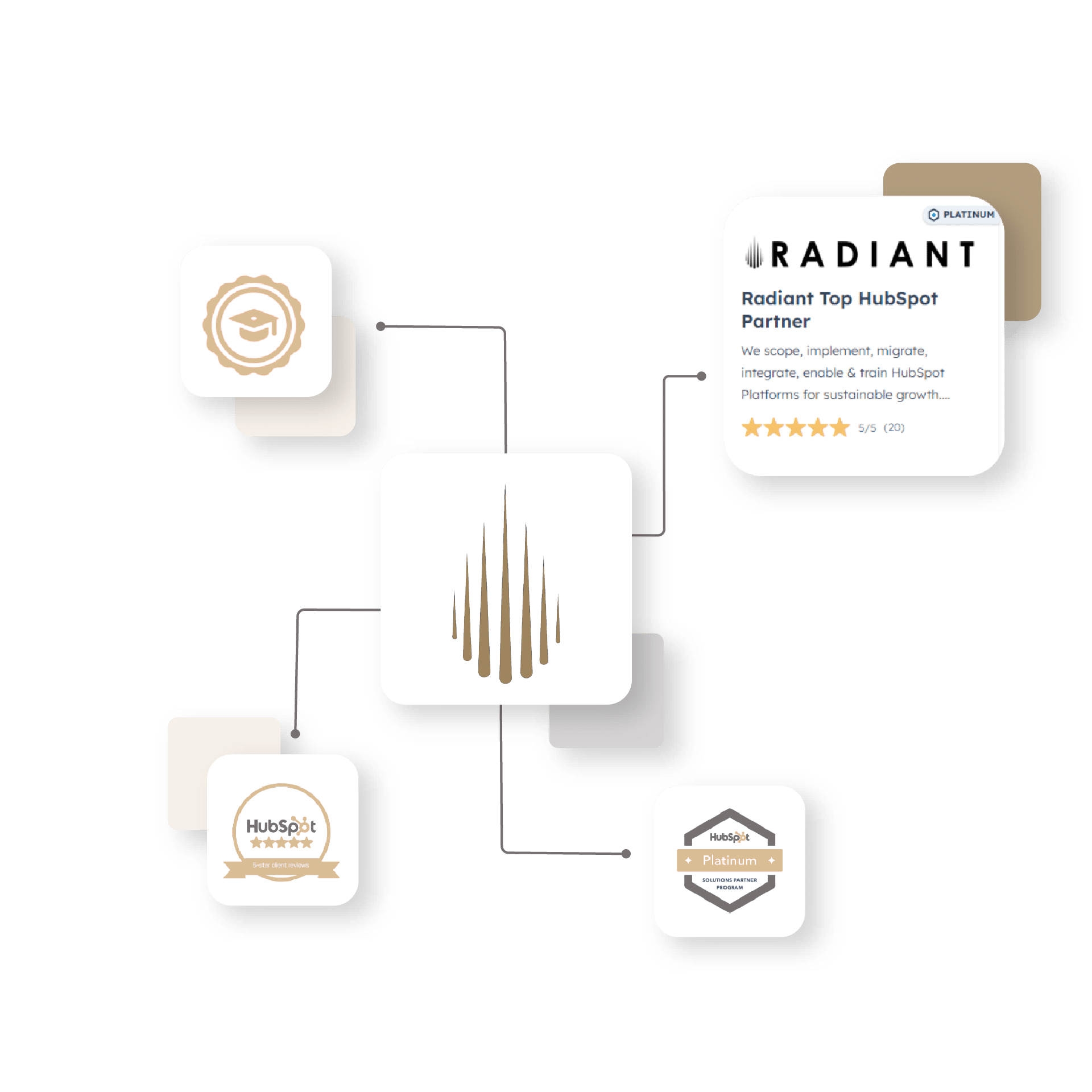 Sales as a Service
High  Performance with Sales as a Service
Exclusively for SaaS, Tech, Finance, and Professional Services.

Exclusively for Business-to-Business.

Exclusively for clients adopting/using HubSpot
Million ARR, DKK generated
Average deal size, ARR, DKK
Avarage client months ROI
Regions: Nordics, DACH, UK

Can you afford not to?
Our HubSpot- & Sales as a Service generate market leading ROI measured in actual revenue

Top Tier HubSpot Partner
Dedicated and Leading Top Official HubSpot Partner in the Nordics 

Practice what we preach
We don't just tell you what to do. We do it for you. Implementations. Enablement. Sales execution. 

Data based on reality
We have real time data from +35 active HubSpot platforms and +15.000 sales processes 

"Radiant demonstrated black-belt proficiency level of our CRM implementation. Radiant is a true Sales Excellence Champion for any company."


"Have shown state of the art sales performance. Sales goals and guidance adopted to each partner in the firm. My best recommendations"


"A top class onboarding. Committed team & good service. It has truly been a pleasure working with Radiant. I will give my very best recommendations."

"Excellent HubSpot cooperation with Radiant! Excellent job in understanding our sales process and helping us implement it in HubSpot. I recommend Radiant as HubSpot Partner"


"Where do I click the SIXTH star for these HubSpot-Ninjas? Becuase Radiant deserves the extra acknowledgement for always delivering 'best in class'"


"Radiant has implemented HubSpot to immense satisfaction with an excellent overview of our sales activities. I will give the best recommendations for Radiant!"

"Radiant's forward-thinking experts curate the best-practices of your next growth journey. The results have been impressive so far and resemble a state-of-the-art approach."


"Radiant has been instrumental at making HubSpot a cornerstone of our growth engine. They were able to understand the complexities and nuances of our business."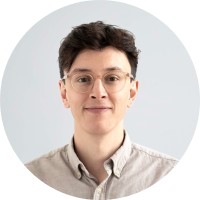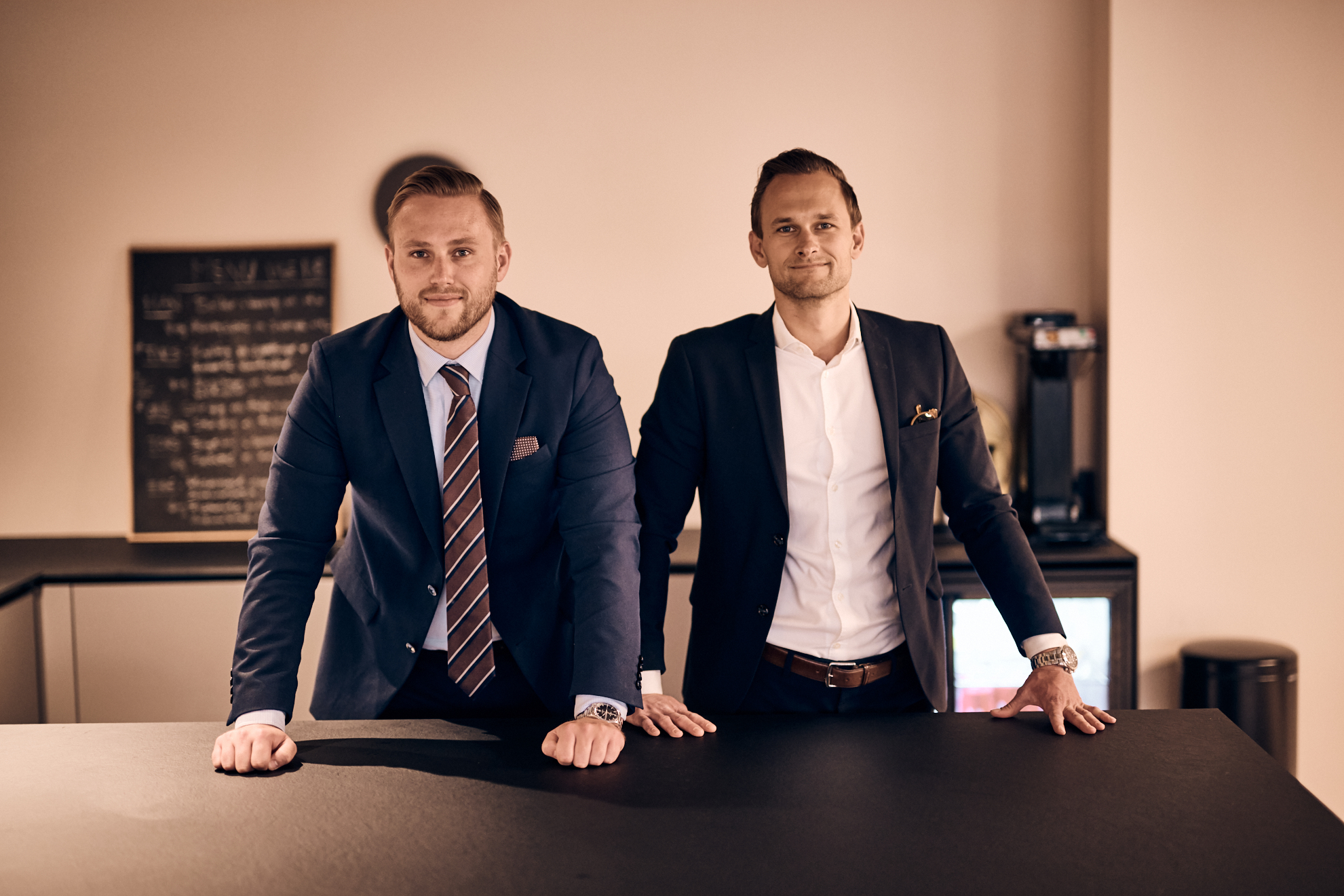 Creator & Market Leader of 2 categories: 'Sales as a Service' & 'HubSpot as a Service'
Radiant was founded in Copenhagen late 2017 by former Deloitte Senior Consultants Joakim Steenfos (left) & Kasper Bjerggaard (right) with a vision of generating Sustainable Growth through Sales as a Service for B2B SaaS, Finance, Tech, and Professional Services.
From analyzing hundreds of businesses in the Nordics we discovered that HubSpot was the most successful CRM & Growth platform. We phased out our Salesforce, Dynamics, and Pipedrive efforts. Instead we decided to fully integrate HubSpot into our own business as well as into our Sales as a Service concept in 2020.
As a result we generated record-high Sustainable Growth on behalf of our clients and Radiant quickly became one of the highest ranked HubSpot Partners. We expanded to Norway, Sweden, Finland, Germany, and UK.
Since then we've accumulated millions of datasets from real and successful Sustainable Growth – and thats why we actually know what works.
In 2022 we did our beta and tested our groundbreaking concept: HubSpot as a Service. With +20 purely 5/5 star client reviews and great endorsements from our partners like HubSpot, Plecto, Lasso X, Contractbook, and Vainu our testing was a huge success.
Therefore we officially launched HubSpot as a Service 1st of May 2023 and we're now able to offer both enablement and execution to drive Sustainable Growth.
Radiant is located in Copenhagen and Oslo with 31 employees and an EBITDA of 3.2 million DKK in 2022. As a result for our rapid growth we also recieved a 'Gazelle Award' from BØRSEN for being one of the fastest growing companies in Denmark 2022.
We practice what we preach becuase we do what works.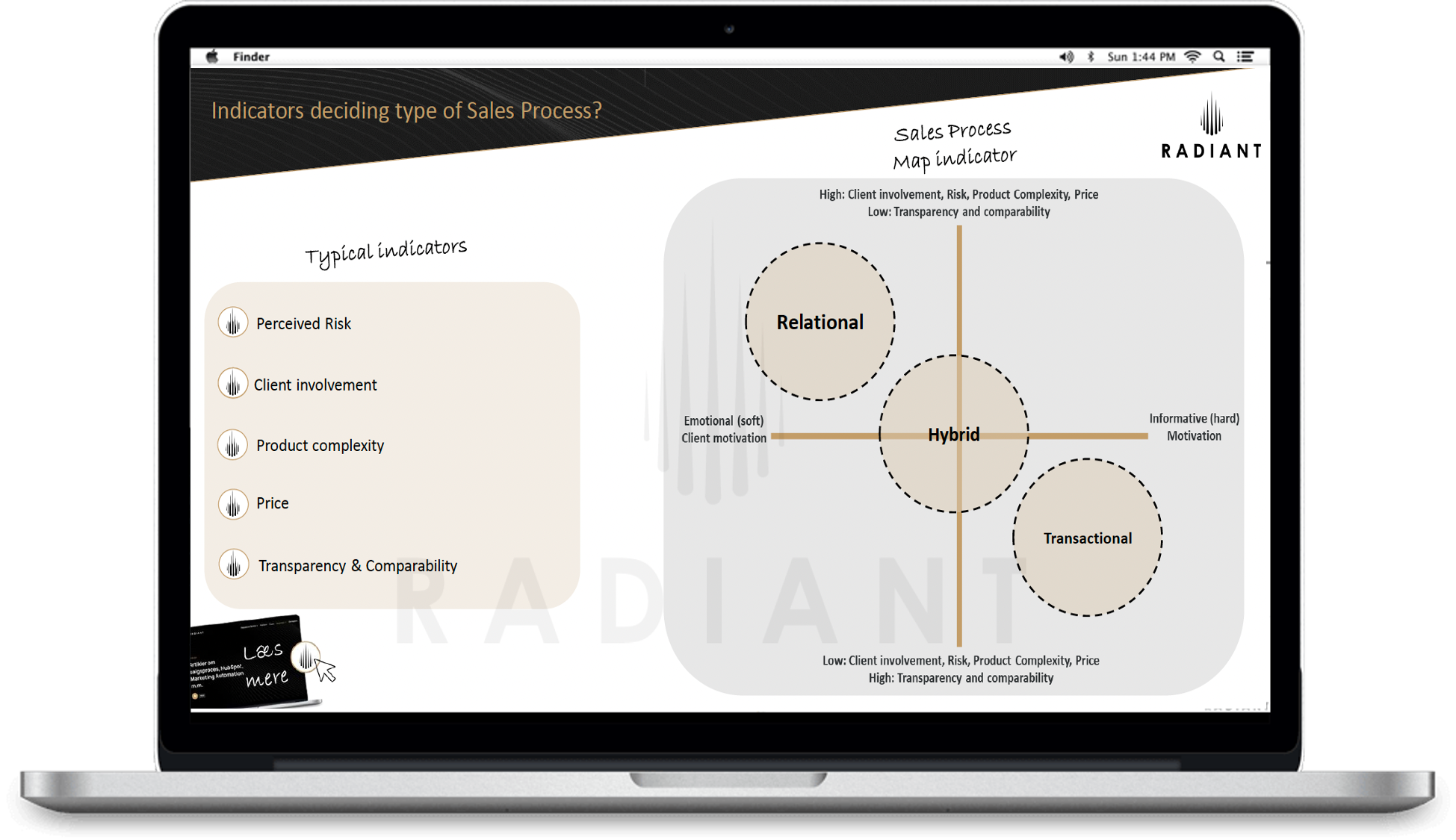 Hybrid Sales Process Template
Hybrid sales is the most succesful way of doing sales. It is the combination of multi-channels, transactional sales and relational sales.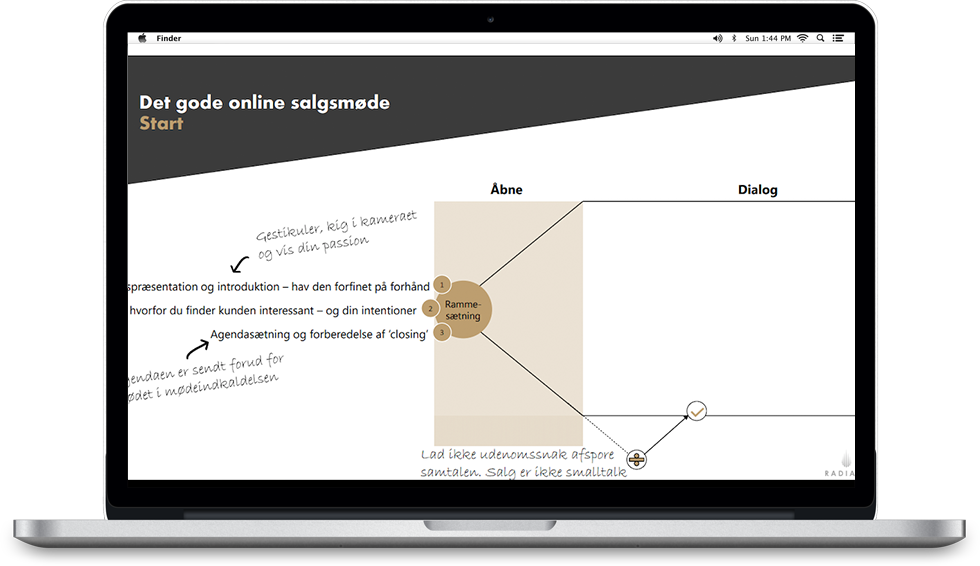 Enhance your online sales meetings
We provide you with the best practice structure and framework to have succesful online sales meetings with the optimal outcome.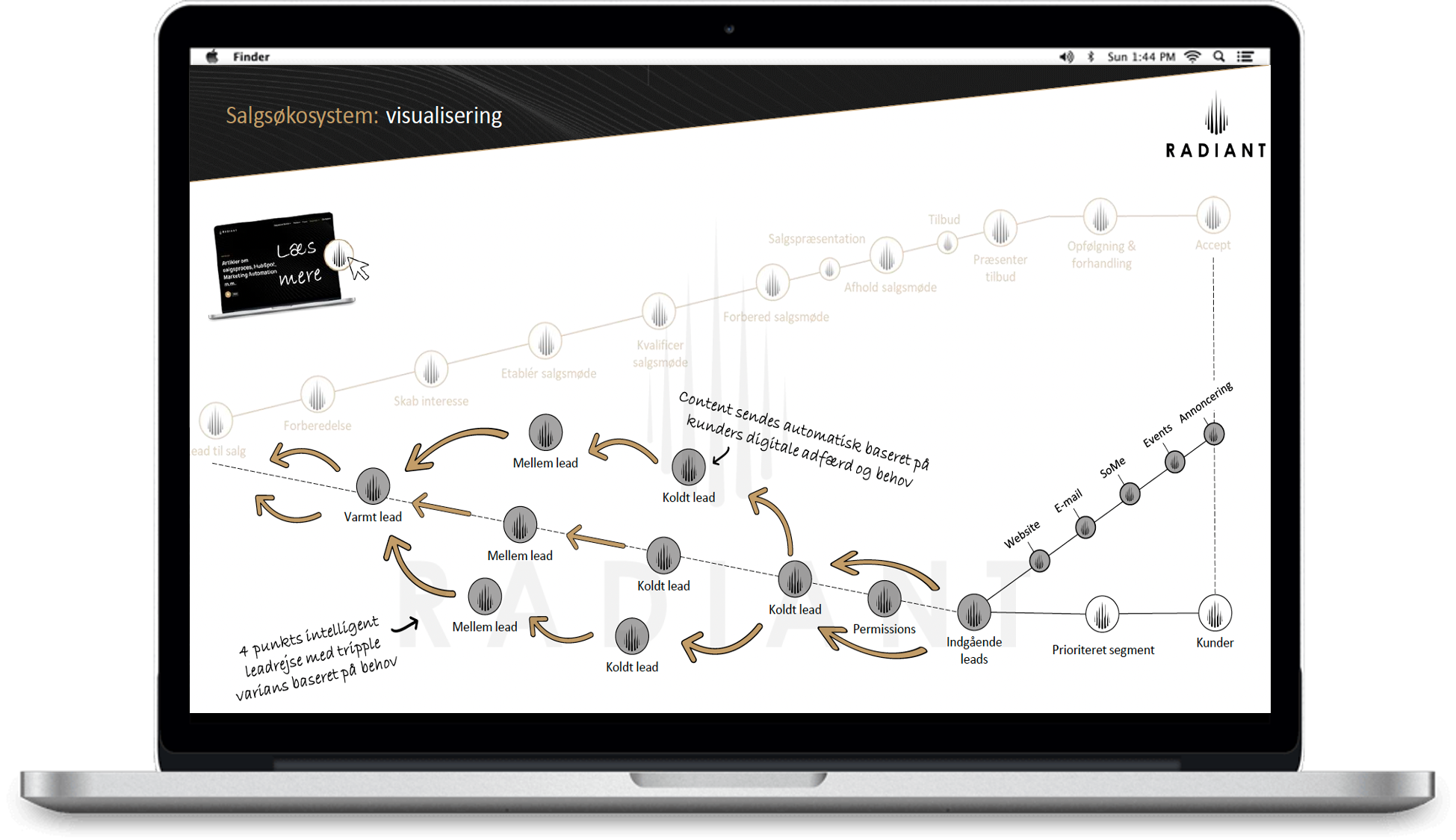 Lead Development Framework
Understand how you design effective marketing funnels by using this simple Lead Development Framework applied in HubSpot. 
Sales and HubSpot Articles
Learn about B2B sales, Sales as a Service, sales processes, HubSpot Implementation, HubSpot enablement, HubSpot integrations and how to utilize a HubSpot Partner etc.