Our Lasso X HubSpot integration benefits

Ready HubSpot Platform
 Our HubSpot Platform is build for the Lasso X HubSpot integration from A-Z. 

The best Scope & Price
Radiant are a Top Tier Lasso X Partner and provide excellence scope and price!

Lasso X integration
Radiant is a Top Ranked HubSpot Partner with deep Lasso X integration insights.

Unique HubSpot data
Real time data from +10.000 Nordic Sales Processes to guide you to what works in reality.
As Lasso X partner Radiant will

integrate and enable your Lasso X in HubSpot
Find new leads in no time – directly from your HubSpot Platform
Using the Lasso X HubSpot integration, you can find the perfect leads for your exact target market. With a targeted search between 800.000 Danish companies and contacts, you will find exactly what you need within more than 70 different criteria like: branch, finances, personal interested etc.
Monitor the market – and be the first to reach out!
With Lasso X HubSpot integration, you can monitor your exact target market. That way, you will be notified directly in your HubSpot, whenever there is a lead that meets your specific criteria. For instance, will you be notified about changes in the management of a company of a specific branch and size, if it makes the company compliant with your criteria.
Lasso X hubspot Integration
Lasso X integration to boost growth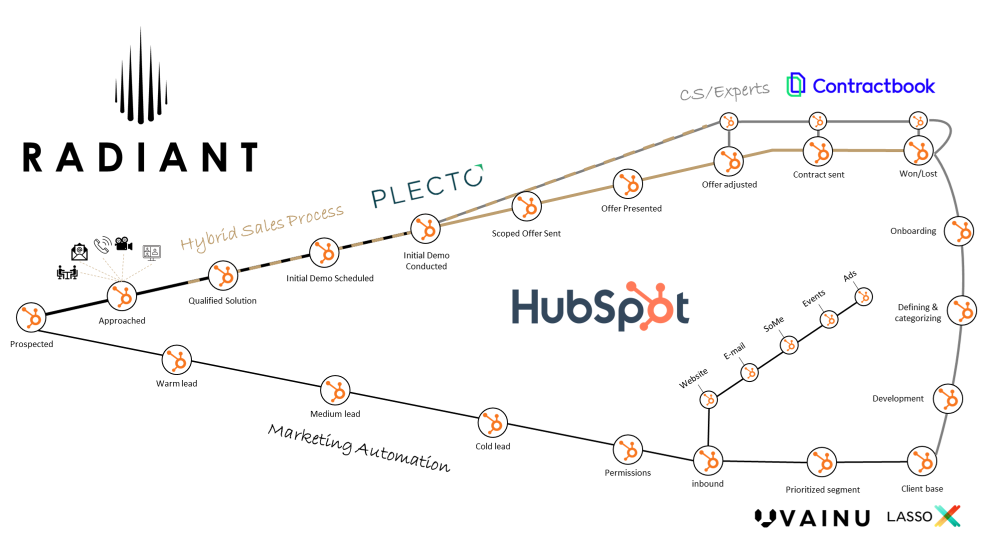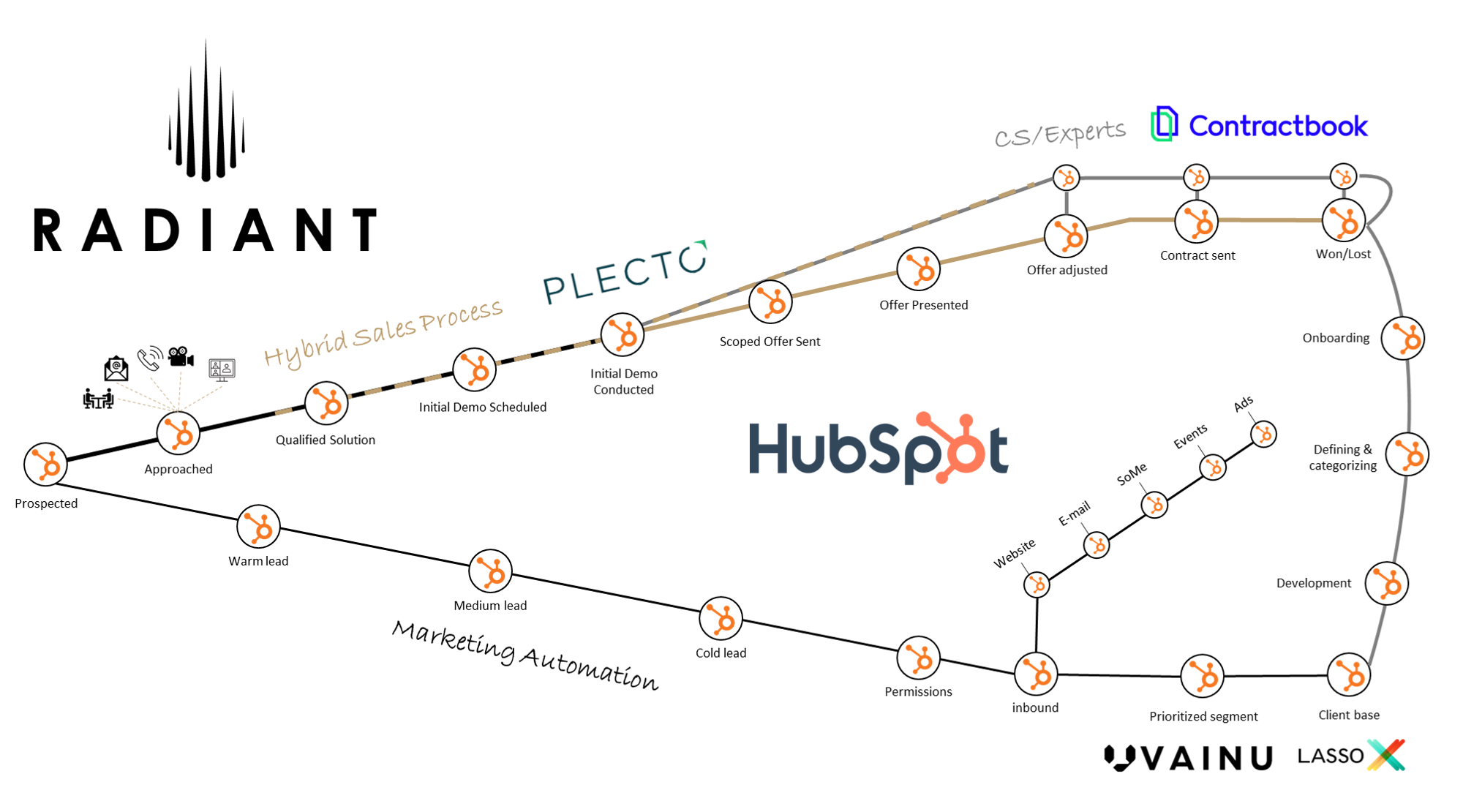 R

Sales as a Service with foundation in HubSpot Ecosystem

R

+ 20 HubSpot Cerfications, Trainer license, 5/5 stars

R

Top Tier HubSpot partner for Tech, SaaS, & Professional Services

R

Unique Partnerships securing the best ROI

R

+35 million DKK ARR generated through our Ecosystem
As your trusted advisor, Radiant, ensures that you will succeed in:  
Time-optimized data collection
Using Lasso X, you can find companies in your specific B2B costumer segment: Search among the 800.000 Danish companies currently in business and choose between a variety of more than 60 different criteria (branch, size, key performance indicators, geographic's etc.).
Your segments can be monitored by the Lasso X robot, and you will be the first to be notified, when relevant changes are taking place.
Sales opportunities
The Lasso X robot is monitoring the CVR-register. Every time there is a change in the structure or the finances of a company, the robot notices it and notifies you if the changed is assessed relevant. You will for example be notified about a customer's mergers, growth in employees, opening of a subsidiary company or a new branch.
Customer retention  
You can upload a list of all of your customers, and continuously be kept updated about changes that need action and response – maybe you should welcome a new CEO or be aware of a merger. The more knowledge about your customers you have, the better your chances of customer retention are.