What is

HubSpot? 
HubSpot is the world leading CRM platform, including marketing, sales, customer services, automation, and CMS. You can use HubSpot as a complete ecosystem solution, or you can use it in specific areas such as email marketing, automated sales emails, or landing page builder. HubSpot is a comprehensive platform that offers a range of tools to attract, retain, and satisfy customers. With the all-in-one solution, you can get full insights into your leads, customers, and prospects across all activities.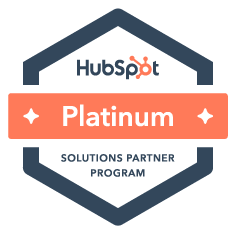 The Hubspot CRM
How does HubSpot work?
HubSpot is a customer relationship management platform (CRM), that works as a comprehensive marketing, sales and service software platform that helps businesses by providing a range of integrated tools and solutions. The platform allows you to store, manage, and analyze customer interactions and data.
Businesses can centralize their customer data, streamline processes, and effectively engage with their audience in one place. With the solution, it is possible to improve efficiency by having all the necessary tools in one place. Additionally, HubSpot offers integrations with the most popular tools and platforms, which makes it easy to ingrate and use in relation to existing tools and routines.
The HubSpot Platform consists of 5 Hubs: Marketing, sales, service, operation, and CMS. The five hubs are designed to address different aspects of the business's operations. By choosing and/or combining the hubs and tools, it is possible to create a tailored solution based on your specific needs.
Get the

ultimate HubSpot Platform
Get the 3 golden steps to implement the Ultimate HubSpot Platform. Download the free guide made by the Top HubSpot Partner in the Nordics.
HubSpot is a powerful platform that can help businesses create sustainable growth and manage their marketing, sales, and customer service activities.
Implementing HubSpot can be a complex process, and it is important to have a clear strategy and place in place to get the most out of the platform.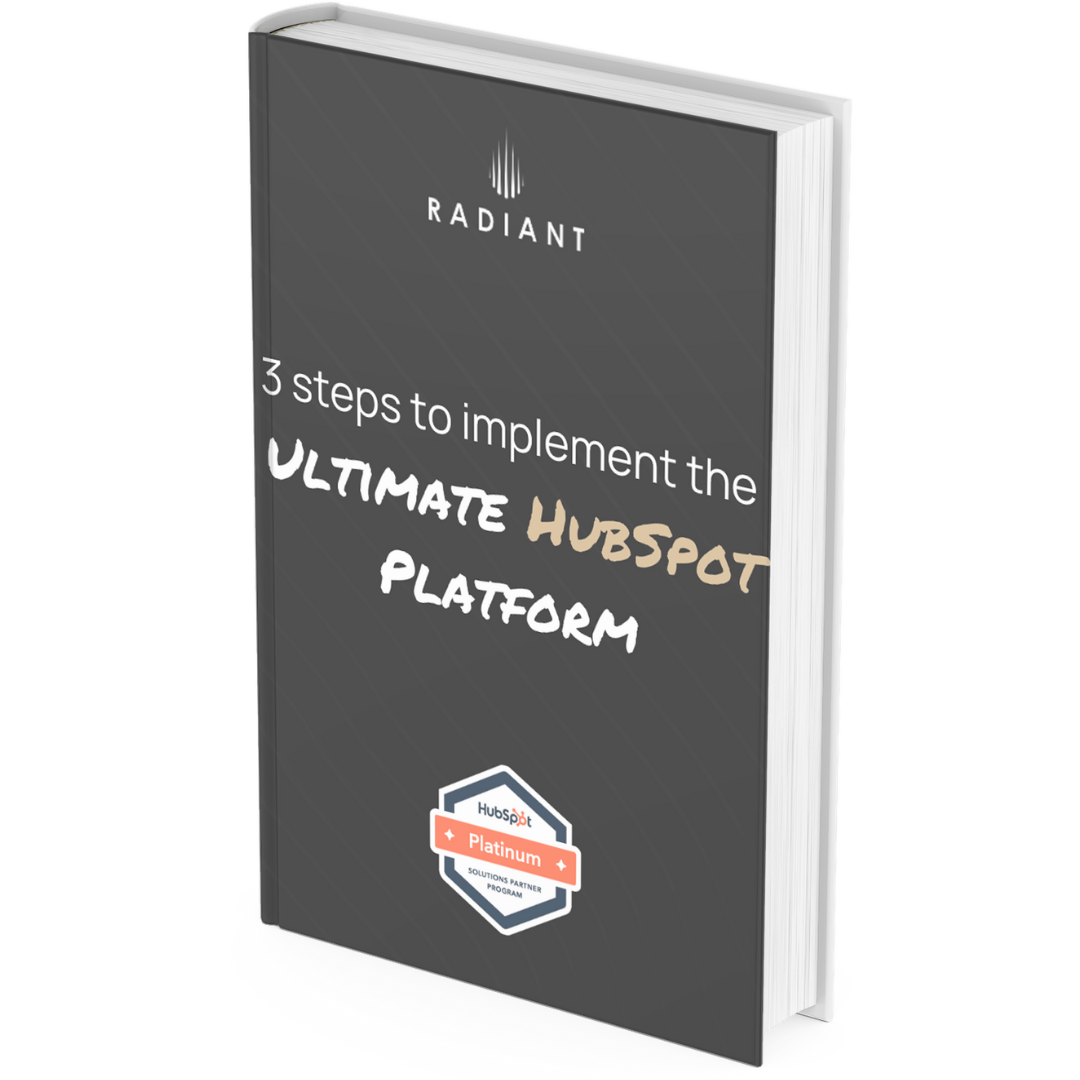 HubSpot Statistics
Why HubSpot?
HubSpot was ranked #1 Global Software Company in G2 Rankings

HubSpot has +177.000 clients in over 120 countries.

HubSpot has more than 7.433 employees globally
Integrations within the HubSpot CRM Platform
Number of 1# Rankings got HubSpot (most of all)
Made by HubSpot in total revenue in 2022
Number of 1# Rankings got HubSpot Marketing Hub (most of all)
Hubspot integratons
Can I
integrate other tools

with HubSpot?
Yes, you can integrate other tools with HubSpot. Actually, you can find more than 1000 integrations in HubSpot Marketplace. One of the most significant benefits of the CRM system is the HubSpot integration opportunities to make a complete ecosystem. For example, you can integrate your email system, social media, and website. 
Typically, the integration process is straightforward with a seamless process. However, there are many opportunities, so it is about finding, implementing, and using the most efficient tools and ensuring the right data enrichment. The integration process can be a unique way to enhance your marketing and sales efforts, streamline workflows, and get a complete view of customers. 
Some of the most popular integrations include: 
Google Ads
WordPress
Shopify
Salesforce
Mailchimp
Lasso X
Zapier
Google Calender
Office365
Microsoft Dynamics

Contractbook

Plecto

Get the best crm system
Why choose

HubSpot?

There are tons of different kinds of CRM platforms. To mention some of them; Salesforce, Pipedrive, and Microsoft Dynamic. So why choose HubSpot CRM? And is it the right solution for you? There can be several reasons why HubSpot is an excellent solution for your company. Let's look at some concrete examples.
HubSpot versus Salesforce
Although there are several CRM options, HubSpot and Salesforce remain as the most popular platforms. These platforms offer solutions for sales and marketing teams. Nevertheless, the variations begin to appear when examining the structure and foundation of both platforms and how user-friendliness the CRM platforms are.
Some of the benefits of using HubSpot versus Salesforce:
All-in-one solution

:

HubSpot offers a unique ecosystem that connects all aspects of the business. This includes marketing, sales, customer service, and operations. On the other hand, Salesforce is primarily focusing on sales and customer relationship management. With HubSpot, you have one platform for all. 
Price and scalable

: HubSpot offers flexible pricing plans, which means that there is a price option for businesses of all sizes and industries. The flexible plans also make it possible to scale your platform as your business grows. Salesforce is often more expensive and less accessible for smaller businesses and industries. 
Unique integration ecosystem: 

Can you mention an integration that HubSpot doesn't have? I bet you can't. HubSpot makes it easy to integrate with your existing tech stack, compared to Salesforce, which can be limited.
With HubSpot's integration with Salesforce, it is possible to synchronizing your data within minutes, without any technical configuration necessary. Want to know more about HubSpot versus Salesforce?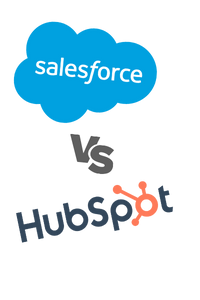 HubSpot versus Pipedrive
Both HubSpot and Pipedrive are popular CRM platforms for managing sales and marketing. However, there are some key differences between the two CRM systems.
Some of the benefits of using HubSpot versus Pipedrive:
Inbound Marketing Focus

: HubSpot's inbound automation approach is designed to attract and engage new customers through content, social media, marketing automation, lead nurturing and scoring, etc. Even though Pipedrive also has some marketing automation, it is limited compared to HubSpot. 
Advanced Analytics and Reporting

: HubSpot allows tracking the performance of your sales, marketing, and service efforts. This gives you an in-depth, data-driven insight into your performance, which is next-level compared to Pipedrive. 
Customer Success Management

: With features such as customer feedback, surveys, and customer health scoring, HubSpot offers many tools to ensure high customer satisfaction. The output can be higher customer retention, which is vital to sustainable growth. This is one of the main reasons to choose HubSpot compared to Pipedrive.
The choice between HubSpot and Pipedrive will depend on your specific business needs. If you're looking for a all-in-one solution with a wide range of features to manage all of your business, Hubspot may be a better choise.
HubSpot versus Microsoft Dynamics
HubSpot and Microsoft Dynamics are two highly-rated CRM platforms. Microsoft Dynamics is particularly useful for larger sales teams, but is it better than HubSpot? If you're looking to grow your business, this section will aid in distinguishing the differences between HubSpot and Microsoft Dynamics, so you can select the CRM that best fits your needs.
Some of the benefits of using HubSpot versus Microsoft Dynamics:
User-Friendliness

: HubSpot is generally more user-friendly and easier to navigate than Microsoft Dynamics. HubSpot CRM offers a more intuitive interface, which makes the system easier to work within. 
Pricing

: With HubSpot, you can choose between different pricing plans, including a free one, making it more accessible for small and medium-sized businesses. Microsoft Dynamics is more expensive than HubSpot.
Integration with Marketing and Sales Tools: 

With HubSpot, you can

manage marketing campaigns, sales pipelines, and customer relationships. All in one place because of the built-in integrations with the CRM. With Microsoft Dynamics, you need to integrate third-party tools, which makes processes more administrative and complex.
If you're looking for a platform with customization options, user-friendly intertface, and seamless integrations with other systems than Microsoft products, HubSpot may be the best choise. Want to read more about HubSpot versus Microsoft Dynamics?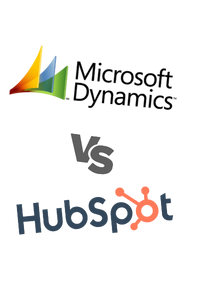 HubSpot pricing
How much
does it cost

to use HubSpot?
HubSpot has different pricing plans based on your need and preferences. Overall, you can choose between 4 pricing plans: free, starter, professional, and enterprise. The free pricing plan offers you some free tools, but be aware of the limitations. Read more about the limitations and free tools.
Be aware that the prices can differ due to price changes. Furthermore, there can be additional costs associated with add-ons and integrations. Get a complete overview of HubSpot pricing plans. 
Overall, the  pricing is flexible and scalable but can also be a bit unmanageable. We recommend talking with a HubSpot Partner to get the right solution and price that match your needs.
Which solution is right for you? With a Top HubSpot Partner, you get the right hubs and the best prices. Contact us.

Free CRM
100% free. Include range of features to help manage your customer relationships. However, there is many limitations. Read more.
Starter
Starts at $50 per month. Includes most basic features for marketing and sales, but with limited such as number of contracts and user. Read more.
Professional
Starts at $1,200 per month. More advanced features for marketing, sales, and service, and more contacts and user. Read more.
Enterprise
Starts at $3.200 per month. Get the most advanced features for your business. Full tailored solution for your business.Read more.
The ultimate hubspot crm platform
How to

get the most

out of HubSpot?
When you use HubSpot, you must ensure that your team is fully educated about features, implementation, and how to use it in practice. With HubSpot Academy, you can access free courses, webinars, and blogs. Here you can get certifications in various areas, which can be a great first step. The certifications include Inbound Marketing, HubSpot Sales Software, HubSpot Marketing Software, and more.
However, if you want to take a step further and get the full out of the platform, you can team up with a HubSpot Solution Partner like Radiant. We're rated as a top HubSpot Partner in the Nordics and help businesses implement, optimize, and use the CRM in practice. Partnering with an official Partner can give you specific benefits. 
It's important to remember that while HubSpot is a powerful tool, it may not fit every business. Before making any decision, think about which hubs you need and how they can help you achieve your goals. You can also contact a HubSpot Partner to help you tailor the right solution.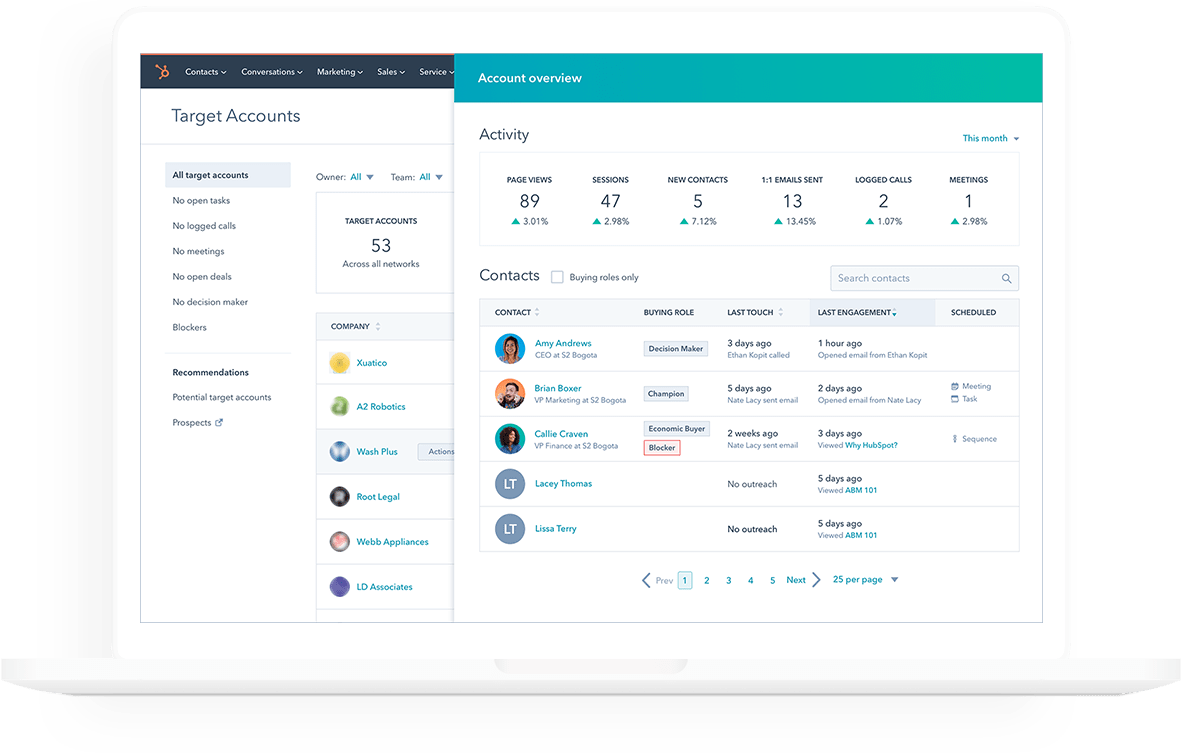 Who is Radiant?
We scale businesses
We implement industry-leading HubSpot Platforms. Because we've accumulated thousands of datasets from actual sales and marketing, we know what works in the Nordic market.
We practice what we preach: we don't just tell you what to do. We actually do it for you. 
R

We implement! enable! scale! The ultimate HubSpot platform

R

Leading HubSpot Partner with +25 HubSpot Certifications & 5/5 stars

R

B2B Sales as a Service with record-breaking ROI results

R

Founded in 2017. In 2023 we're +30 employees in DK and NO.

R

Purely for B2B
Download B2B Sales tools
Best practice to enhance B2B Sales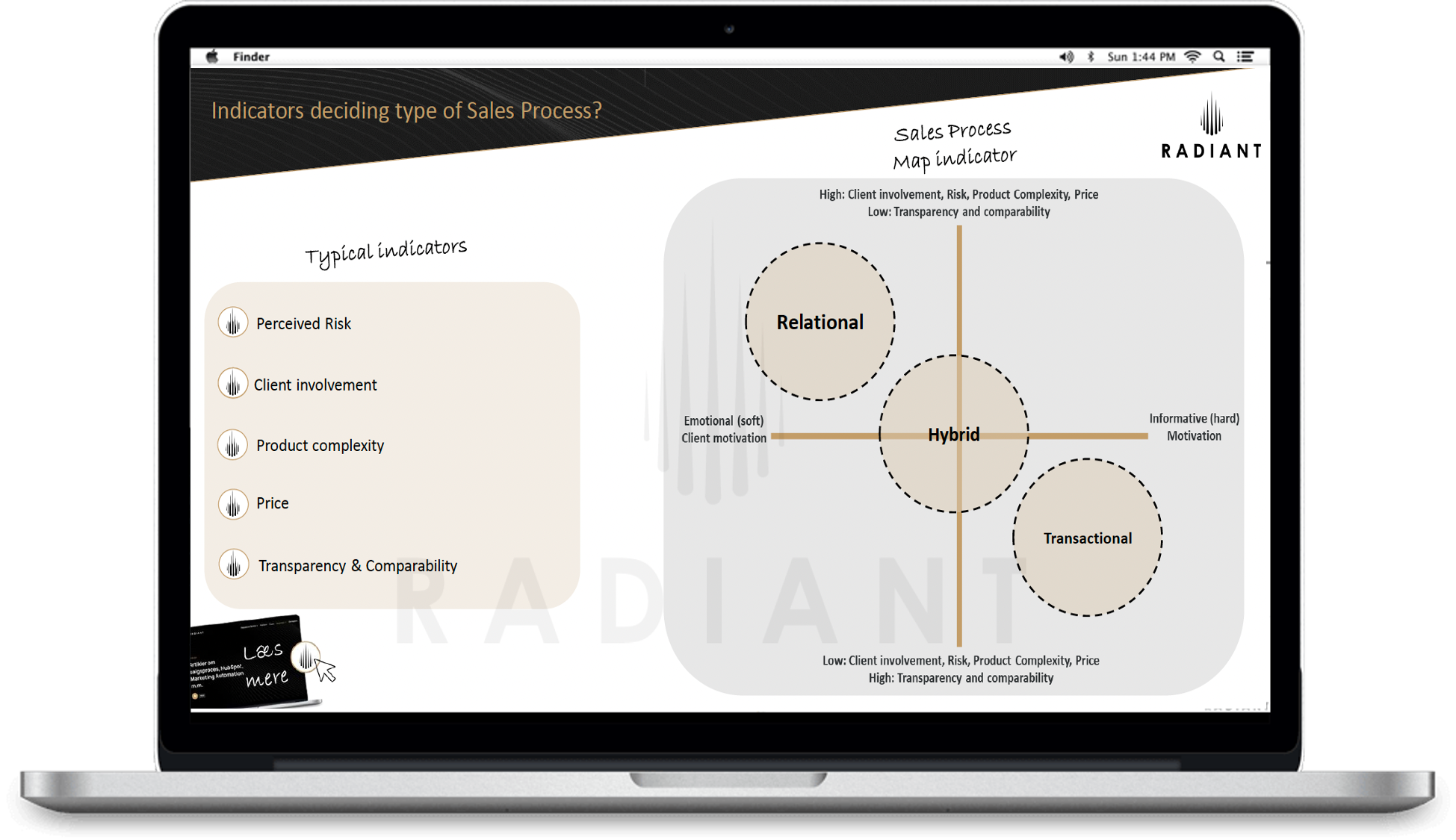 Hybrid Sales Process Template
Hybrid sales is the most succesful way of doing sales. It is the combination of multi-channels, transactional sales and relational sales.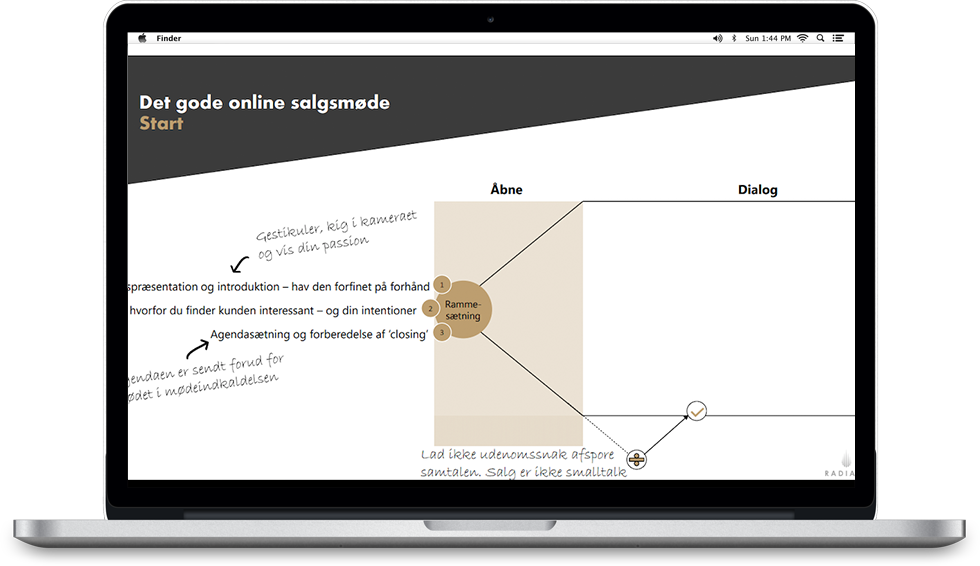 Enhance your online sales meetings
We provide you with the best practice structure and framework to have succesful online sales meetings with the optimal outcome.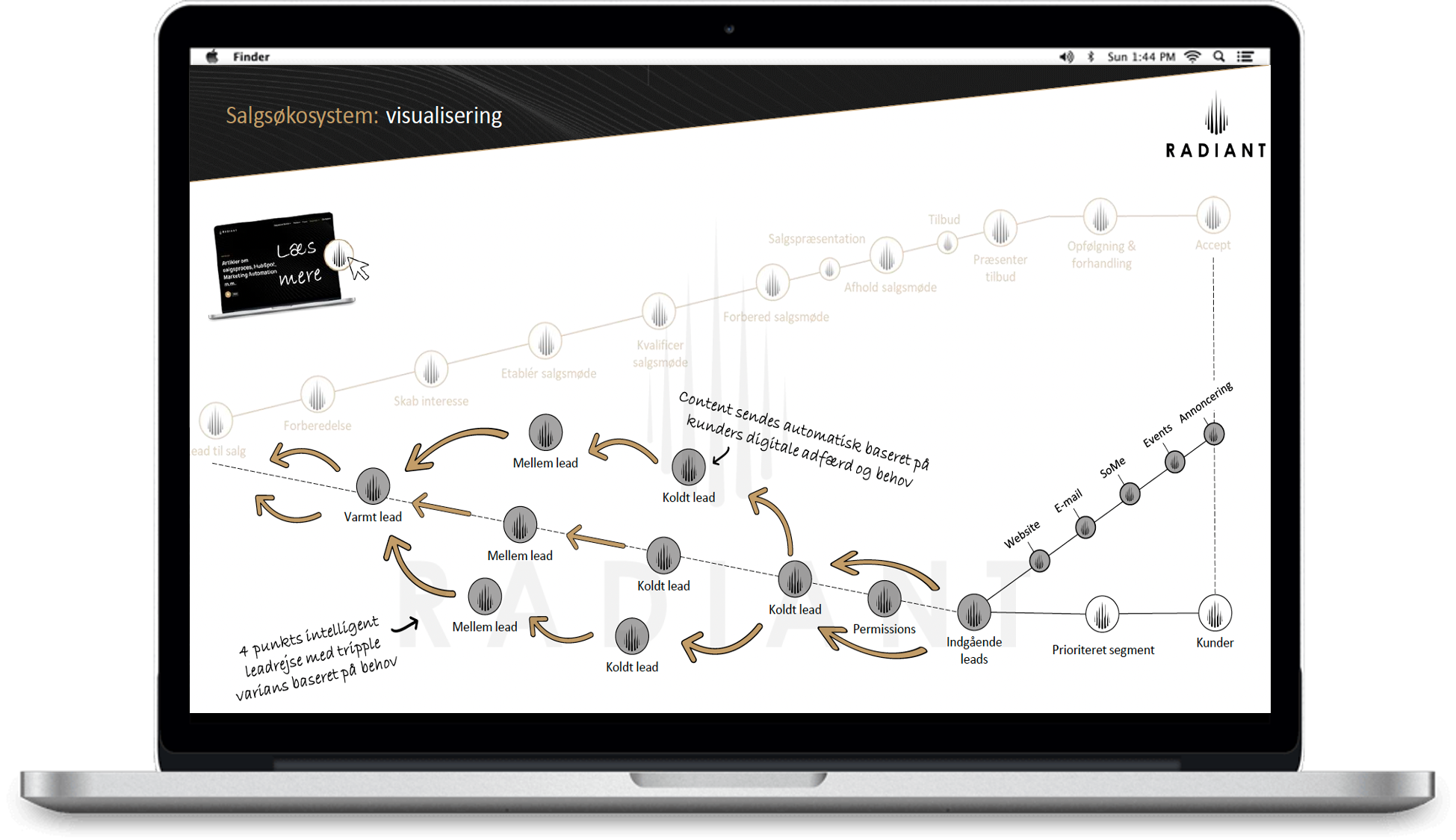 Lead Development Framework
Understand how you design effective marketing funnels by using this simple Lead Development Framework applied in HubSpot. 
Articles about B2B sales and HubSpot mastering
Learn about B2B sales, Sales as a Service, sales processes, HubSpot Implementation, HubSpot enablement, HubSpot integrations and how to utilize a HubSpot Partner etc.