Contractbook HubSpot integration
Integrate digital signing and contract management in HubSpot

Our Contractbook HubSpot integration benefits

Ready HubSpot Platform
 Our HubSpot Platform is build for the Contractbook HubSpot integration from A-Z. 

The best Scope & Price
Radiant is a Top Tier Contractbook Partner and provide excellence scope and price!

Contractbook integration
Radiant is a Top Ranked HubSpot Partner with deep Contractbook integration insights.

Unique HubSpot data
Real time data from +10.000 Nordic Sales Processes to guide you to what works in reality.
As Contractbook partner Radiant will

integrate and enable your Contractbook in HubSpot
Handle your contract management and digital signing directly through one smooth flow in HubSpot
Close faster with contract automation through Contractbook Contract Management HubSpot integration. Improve your revenue growth with a faster sales contract workflow. Integrate Contractbook with your HubSpot to maintain one source of truth and to move data seamlessly and automatically to avoid manual copy-pasting.
Automated contract creation directly through your Contractbook HubSpot integration
Ensure flawless contracts in no time. Auto-generate contracts based on CRM data for faster and more consistent contracts.Track the status of your contracts, and automate tasks or reminders to stay on top of any renewals, upsells, and pricing adjustments. 

"We have partnered with Radiant, because they provide the sales tech-stack-of-the-future, for high-growth companies in the Nordics, and that is exactly what we in Contractbook want to be a part of together with Radiant!"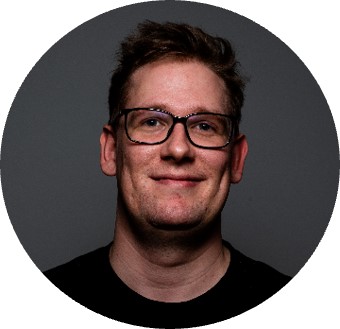 Being a partner and Working with Radiant and CEO, Joakim Steenfos, is a true pleasure! Radiant is reliable and best in class when it comes to HubSpot and Sales as a Service, something we at Contractbook and our mutual customers value very much"

Per Allin, Head of Partnerships
Contractbook hubspot Integration
Contractbook integration to boost growth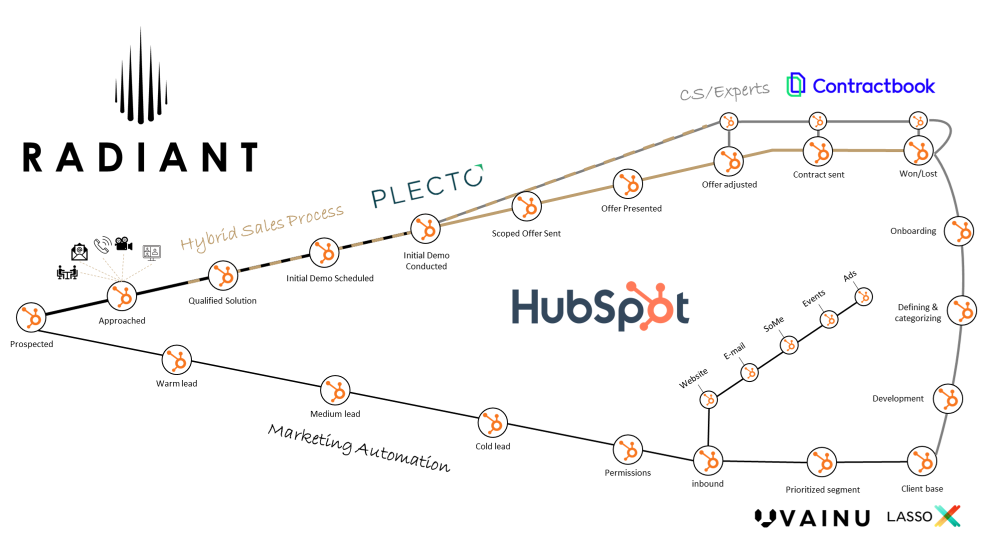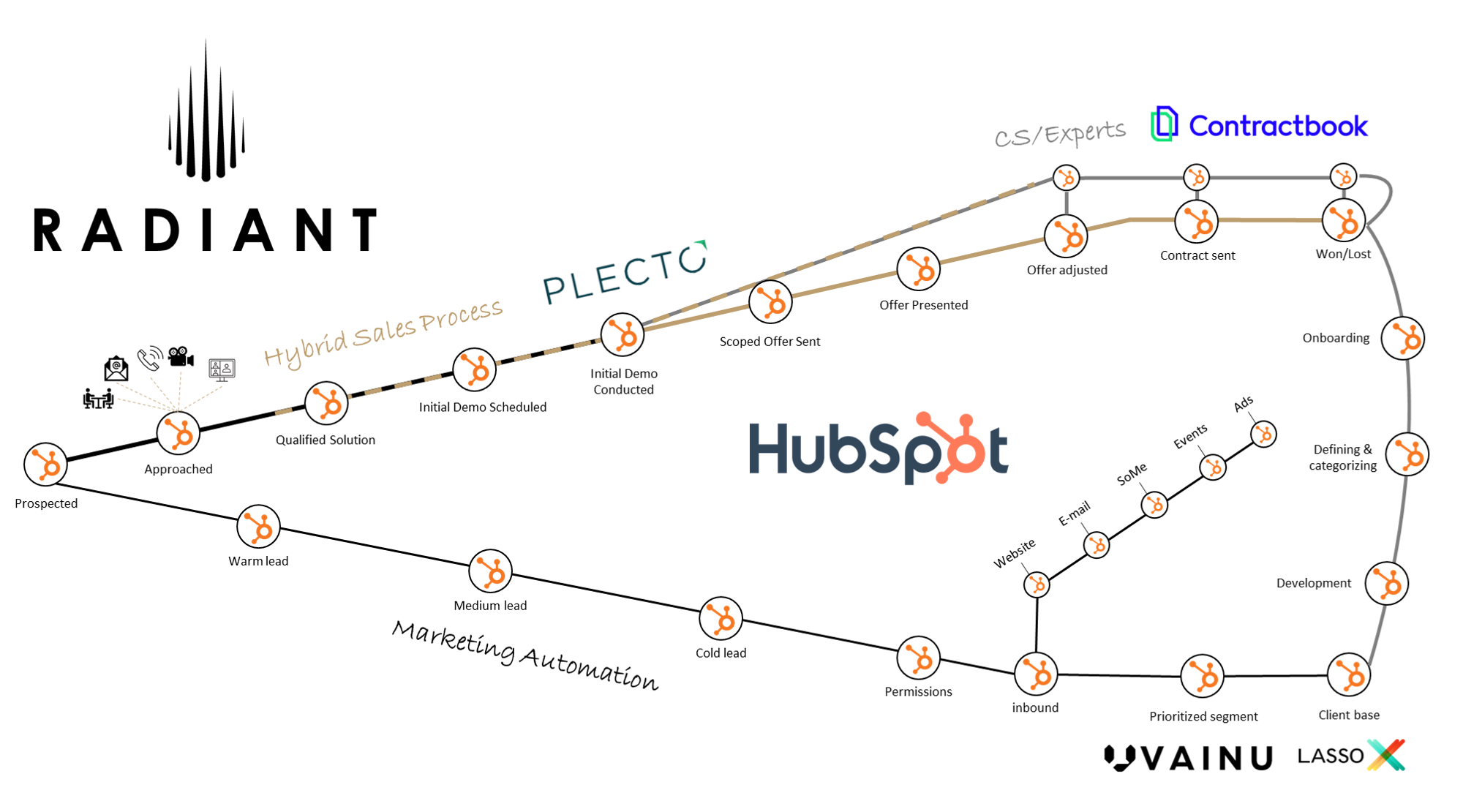 R

Sales as a Service with foundation in HubSpot Ecosystem

R

+ 20 HubSpot Cerfications, Trainer license, 5/5 stars

R

Top Tier HubSpot partner for Tech, SaaS, & Professional Services

R

Unique Partnerships securing the best ROI

R

+35 million DKK ARR generated through our Ecosystem

R

Contract Management HubSpot Solutions
Contractbook HubSpot integration
benefits
Connect Contractbook with the CRM of your choice (2-way sync integration, real-time data flow between tools)
Connect Contractbook with the communication tool of your choice. Slack, MS Teams—you name it. Make sure everyone on your team is updated.
Automated reminders & tasks so that your potential and excisting clients always will be aware of why, how and when they should sign the deal!