If you're a B2B company looking to improve your customer service and boost your growth, keep reading to learn more about the benefits of using Canned Snippets and how they can help your business succeed. The feature is available within the HubSpot Sales Hub.
What is HubSpot Canned Snippets
It's a pre-written piece of text that can be easily inserted into customer service emails, chat messages, and more. This allows businesses to quickly respond to common customer questions and inquiries, saving time and improving efficiency. Which therefore will increase your teams' efficiency.
Benefits of using HubSpot Canned Snippets
There are many benefits to this feature, including the ability to provide faster and more consistent customer service, improved efficiency and productivity, and the ability to easily scale as your business grows. By using Canned Snippets, businesses can also maintain a high level of professionalism and consistency in their messaging, which is crucial for building trust and credibility with customers.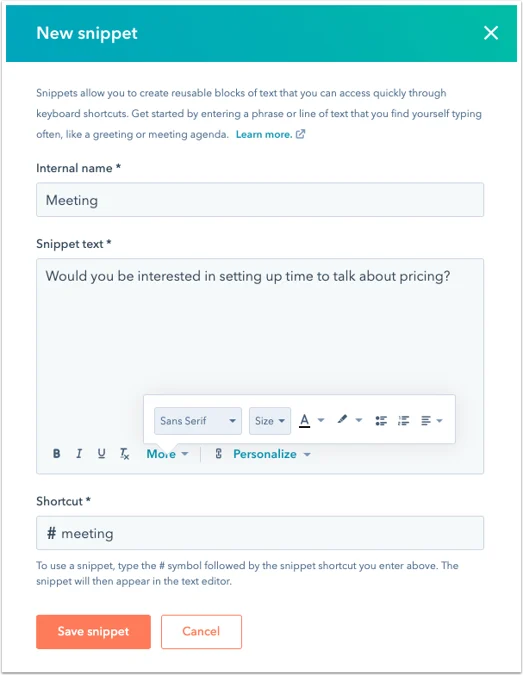 How to Use it
Using HubSpot Canned Snippets is easy and straightforward. Here is a step-by-step guide on how to use them:
Go to Conversations > Snippets in your HubSpot account.
Click on the "Create snippet" button located in the upper right corner of the screen.
Enter an internal name for the snippet in the provided field.
In the Snippet text-rich text editor, enter the body of your snippet. Note that there is a limit of 2,500 characters per snippet. If your snippet includes double-byte characters, such as Japanese, you may reach the limit with fewer characters.

Use the formatting options at the bottom of the editing window to modify the text. For more options such as editing font style and size or text alignment, click on the "More" dropdown menu.
To add hyperlinked text, click the link icon.
To personalize your snippet, use the "Personalize" dropdown menu. Learn more about adding personalization tokens to your snippet.

Enter a shortcut name for the snippet in the provided field. This shortcut will be used to insert the snippet in a record, email template, live chat conversation, or when logging an activity.
Once you've finished creating your snippet, click the "Save snippet" button to save it.
Who uses HubSpot Canned Snippets:
It are used by almost every business utilizing HubSpot as their CRM. The feature is an extremely easy tool to use and can help you save time. There is not a business where it's more relevant to use snippets than others, it's all about how your teamwork and if there are some common answers to clients in customer support.
A Situation where it's Relevant
Imagine you are a Sales Representative for a SaaS company that offers a variety of subscription plans. You receive a lot of inquiries from customers about the different subscription options and the features included in each plan for specific verticals and industries. Using Canned Snippets, you can quickly and easily insert pre-written semi-tailored responses to these common questions, allowing you to provide fast and accurate information to customers without having to type out the same answers over and over again.
Is it difficult to use HubSpot Canned Snippets?
Easy! HubSpot Canned Snippets are not difficult to use. As demonstrated in the step-by-step guide above, using the feature is simple and intuitive. Even if you are new to HubSpot, you should be able to start using it with ease.