HubSpot is a leading CRM software that helps businesses grow by providing a range of tools to help companies manage their sales, marketing, and customer service. One of the key features of HubSpot Sales Hub is Playbooks. In this article, we'll explore how HubSpot and Playbooks can help your business gain more sales, the benefits of using Playbooks, a step-by-step guide to set it up, an example of where it's relevant for a company, and why Radiant, a top-tier HubSpot partner, is the perfect fit for your business.
What is a Playbook?
A playbook is a set of guidelines, strategies, and procedures that provide a structured approach to a specific objective. It serves as a reference guide, offering step-by-step instructions, best practices, and tips to ensure consistent and effective execution. Playbooks are commonly used in various fields, including business, sports, and IT.
Key Aspects of a Playbook:
When making a playbook it's important to consider some of these key aspects:
Structured Framework: Playbooks offer a methodical strategy for reaching a goal, making sure that all steps are carried out consistently.
Best Practices: The implementation of best practices ensures that users gain from accumulated knowledge and experience since they frequently incorporate tried-and-true strategies and tactics.
Scalability: By guaranteeing that every team member adheres to the same rules and processes, playbooks enable firms to duplicate success.
Flexibility: Although playbooks offer an organized strategy, they can frequently be modified to address particular situations or difficulties.
Training tool: Playbooks are used as training tools to make sure new team members are familiar with the organization's common practices and tactics.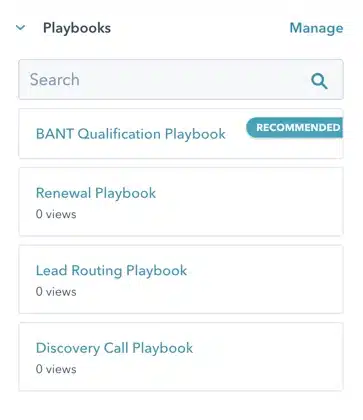 Why Playbooks can Help You Gain More Sales
HubSpot Sales Hub provides a suite of sales acceleration tools that can help you close deals faster, automate tasks, and gain more visibility into your sales pipeline. Playbooks are a part of this suite, providing sales reps with a step-by-step guide on how to close deals in a way that is optimized for their specific sales process.
With HubSpot and Playbooks, sales reps can focus on what matters most: closing deals. They no longer have to waste time on administrative tasks or figuring out the best approach to a sale. Playbooks provide a tried and tested process that can help your sales reps close more deals in less time.
What are the Benefits of Playbooks in Correlation to Sales
Playbooks provide a range of benefits for businesses that want to optimize their sales process:
Consistency: Playbooks provide a consistent process that ensures all sales reps are following the same steps to close a deal. This can help reduce errors and ensure that all deals are closed in the most effective way possible.
Efficiency: Playbooks automate many of the administrative tasks involved in closing a deal, freeing up sales reps to focus on selling. This can help sales reps close deals faster and increase their productivity.
Visibility: Playbooks provide visibility into the sales pipeline, allowing sales reps to see where deals are in the process and what steps need to be taken to close them. This can help managers identify bottlenecks in the sales process and take action to improve efficiency.
Optimization: Playbooks can be optimized over time to improve the sales process. By analyzing data from closed deals, businesses can identify areas where the process can be improved and make changes to the playbook accordingly.
Onboarding: Playbooks can make onboarding new sales professionals much easier.
A Step-by-Step Guide
Log in to your HubSpot account and navigate to the "Sales" tab in the main menu.
Click on the "Playbooks" link and then click on the "Create Playbook" button.
Select the type of Playbook you want to create (sales or marketing), and then enter a name and description for your Playbook.
Use the drag-and-drop editor to create your Playbook, adding stages, tasks, and actions as needed.
Once your Playbook is complete, click on the "Save" button to save it.
To activate your Playbook, click on the "Activate" button and then select the triggers that will start the Playbook (such as a form submission or a specific email).
If you want more information about how to create and implement a playbook in HubSpot, you can visit their knowledge base.
An Example Where It's Relevant for a Company
Let's say you run a B2B software company that sells enterprise software solutions to large companies. Your sales process involves a series of steps, including lead qualification, product demos, and contract negotiations. With Playbooks, you can create a step-by-step guide that outlines each stage of the sales process and provides sales reps with the tools they need to close deals faster.
For example, your playbook might include a task to send a follow-up email to a prospect after a product demo.
Is it difficult to use HubSpot Playbooks?
Using HubSpot Playbooks is not difficult, to use. However, what can be difficult is, what to write in the playbooks and not just make it one of the other documents your sales team doesn't use. Therefore, Radiant can help you on how to utilize it and share knowledge from our experience. Radiant can provide guidance and support to ensure that your business is able to implement and utilize HubSpot Playbooks to its full potential. With Radiant's assistance, your company can unlock the potential of HubSpot Playbooks and achieve your goals.