Are you a B2B marketer? And are you ready to explore the world of omnichannel marketing automation? Well, then you found the right place because we're about to dive in and show you how it can help you. Furthermore, we'll focus on how HubSpot Marketing Hub makes it super easy for you to achieve Omni-channel marketing success. Let's get started.
What is Omnichannel Marketing?
Omnichannel marketing is a strategy that provides customers with a 360 experience, meaning, regardless of the channel they will get a streamlined message. This could be through a physical store, an online website, a mobile app, social media, or even through telephone communications. The idea is to unify these channels to serve the customer in a consistent and personalized manner.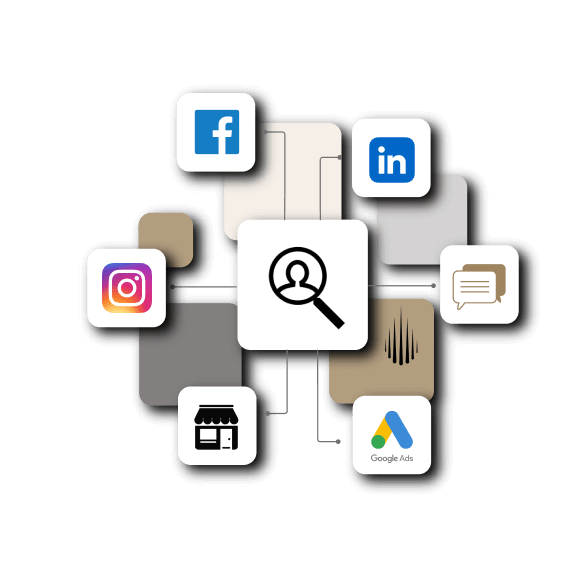 Why Omnichannel Marketing Automation Can Help You Gain More Revenue
If you are wondering "What's the big deal with Omni-channel marketing automation?" well that's a good question! This marketing technique is about connecting with your customers through multiple channels, making their experience smooth and personalized. It sounds like on hell of a job, doesn't it? You can automate it all! This means happier customers, less churn, and more dough in your pocket. Win-win, right?
What are the Benefits of Omnichannel Marketing Automation in Correlation to Marketing
Omnichannel marketing is a total upgrade for your marketing efforts. It helps you create a consistent, personalized customer experience. Your messages stay the same, no matter which platforms your prospects are on. This means more recognisability which leads to better conversion rates.
As an example, you can create a dynamic list in HubSpot, connect it to LinkedIn Campaign Manager and continuously target specific prospects. Here are some benefits of the benefits of omnichannel marketing:
Enhanced Customer Experience: By offering a consistent and integrated experience, customers are more likely to have positive interactions with the brand, leading to increased loyalty and satisfaction.
Increased Sales: A seamless shopping experience can lead to higher conversion rates. Customers are more likely to make a purchase when they can do so through their preferred channel without any friction.
Better Data Insights: With multiple channels integrated, brands can gather comprehensive data on customer behavior, leading to more informed marketing decisions.
Higher Customer Retention: A positive and consistent shopping experience across all channels can lead to higher customer retention and loyalty.
Competitive Advantage: Brands that successfully implement an omnichannel strategy can differentiate themselves from competitors and position themselves as leaders in customer experience.
A Step-by-Step guide
Like many of our other articles, there isn't a straight path to do omnichannel marketing. How to do it depends on what channels you want to combine.
In this example, we will take a look at how you can combine email marketing and LinkedIn ads.
First, you have to find a list you want to target through email and LinkedIn ads
Then in the main header go to 'marketing' and then 'ads'
In the upper right corner click on 'create audience'
Now you can choose between list that is company and personal based
Choose the list you created
Now you will have to create the ad itself and use the audience
So go back again, by clicking on 'marketing' and then 'ads' in the main header
Create your ad by clicking on the 'create ad campaign' button in the upper right corner
Now fill out the information like copywriting, picture etc. until you come to the audience settings – then select the audience you made in the previous step.
Now, just finish the ad, publish the campaign and the targets will get your ad and you can start mailing them to create an omnichannel experience.
To read more about omnichannel marketing visit the HubSpot Omnichannel blog
An Example where it's Relevant for a Company
Imagine a B2B SaaS company that sells project management tools for busy project managers. By implementing omnichannel marketing with HubSpot, you can create a personalized marketing journey that includes targeted emails and ads. By keeping tabs on customer behaviour across these channels, you can figure out which touchpoints are most effective for turning leads into paying customers.
How Radiant can help you Utilize Features within HubSpot
At Radiant we practise marketing efforts every day, together with other features within HubSpot for customers and internal usage. We are with all humbleness the best choice in the Nordics to grow your business through HubSpot, being 5/5 star rated and have one out of just 10 official HubSpot trainers in the nordics.
We are always open for questions regarding HubSpot or Radiant – so don't hesitate to contact us.