HubSpot Sequences is a powerful tool that can help B2B companies to improve their results. This feature is a part of the HubSpot Sales Hub platform and allows you to automate sales and marketing processes, ultimately providing the ability to scale the operations more efficiently.
What are HubSpot Sequences?
HubSpot Sequence is a tool that allows companies to create automated "sequences" of emails, tasks, and other actions that are triggered by specific events or conditions. For example, you might create a sequence that sends a series of follow-up emails to a prospect after they fill out a form on the company's website. This sequence would be triggered when the prospect submits the form, and the emails would be sent automatically according to the schedule and conditions specified by the business.
Why are HubSpot Sequences Useful?
One of the key benefits of using HubSpot Sequence is that it allows companies to automate their sales and marketing processes. This can save significant time and effort, as the business no longer has to follow up with prospects or customers manually. Instead, the sequences work for them, allowing the business to focus on other tasks and activities.
In addition to saving time and effort, HubSpot Sequence can also help businesses to improve their results and performance. By automating sales and marketing processes, businesses can ensure that they are consistently and effectively engaging with their prospects and customers. This can help to improve conversion rates, increase customer retention, and drive overall growth.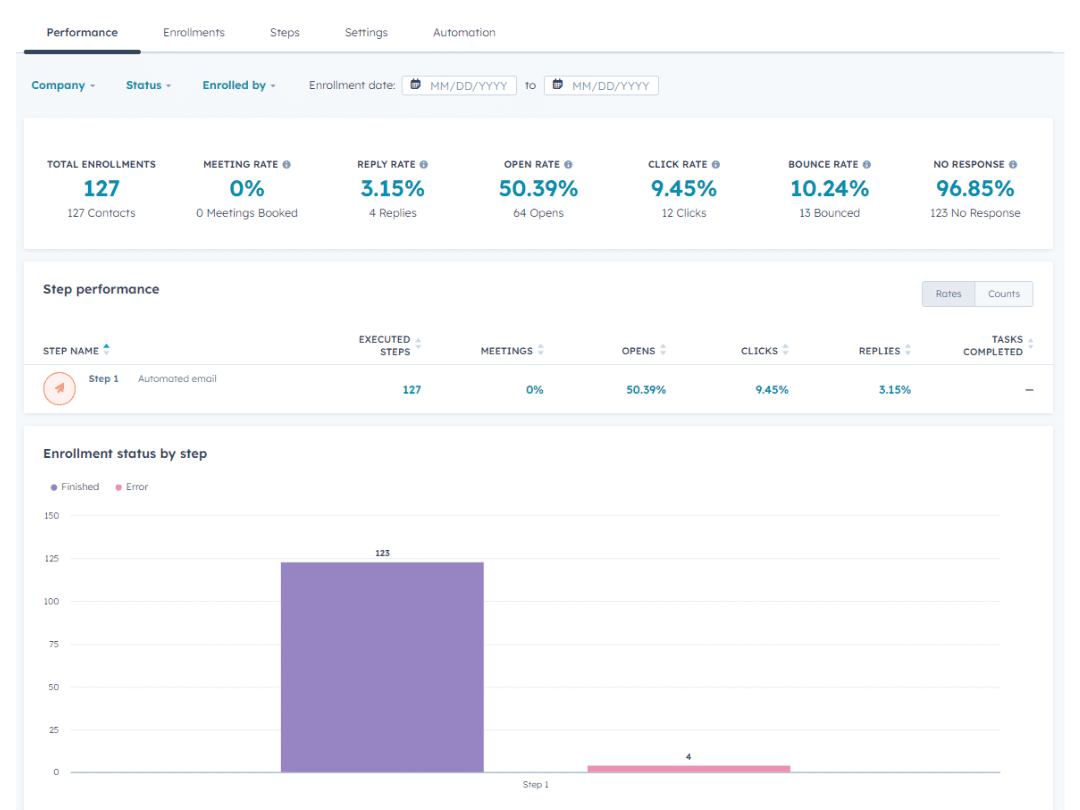 How to Use HubSpot Sequences?
But how do businesses use HubSpot Sequence? Here is a step-by-step guide:
Log in to your HubSpot account and navigate to the "Automation" menu.
Under the "Automation" menu, click on "Sequences".
From the "Sequences" page, click on the "Create" button to create a new sequence.
On the "Create Sequence" page, give your sequence a name and description, and select the type of sequence you want to create (e.g. email, task, or event).
Next, specify the trigger for your sequence. This is the event or condition that will cause the sequence to start. For example, you might specify that the sequence should be triggered when a contact is added to a specific list or when a contact opens a specific email.
Once you have specified the trigger for your sequence, you can add the individual steps that make up the sequence. For example, add a step to send an email, a step to assign a task to a specific team member, or a step to wait for a certain amount of time before moving to the next step.
After you have added all the steps for your sequence, you can preview and test the sequence to ensure it is working as expected.
Finally, once you are satisfied with your sequence, you can save and activate it. From that point on, the sequence will run automatically according to the trigger and conditions that you have specified.
Who Uses HubSpot Sequences?
Many B2B companies, including those in the SaaS, Finance, Professional Services, and Tech industries, use HubSpot Sequence to automate their sales and marketing processes. This powerful tool allows them to create automated "sequences" of emails, tasks, and other actions triggered by specific events or conditions.
An Example Situation where Sequences are Relevant:
Consider a tech company that sells software to other businesses to give a specific example of how HubSpot Sequence can be relevant and useful. This company might use HubSpot Sequence to create a sequence triggered when a prospect downloads a free trial of the software. The sequence might include steps to send follow-up emails to the prospect, schedule demo calls with the sales team, and assign tasks to the customer success team. By automating these processes, the tech company can ensure that they consistently and effectively engage with their prospects, leading to improved conversion rates and overall growth.
Is it Difficult to Use?
The user interface is designed to be user-friendly and intuitive, so most users will be able to create and manage their sequences without any difficulty. Additionally, the HubSpot support team is always available to answer any questions and provide assistance if needed. Sequences are used when the project, journey, or activity isn't complex. To create complex automation, you should use HubSpot Workflow instead.
Radiant Results
The tool is optimal for any kind of business. With the proper structure, Radiant's clients are using HubSpot Sequences to automate tasks that are typically time killers. With a simple and user-friendly interface, there's no reason not to take advantage of this tool.
For further reading, click here and read: How Radiant uses Hubspot Sales Hub
Radiant Rating and Recommendation
8/10. Automation is key to business success because it increases efficiency, reduces errors, and lowers costs. It allows you to streamline processes and free up time and resources to focus on other business areas.
Requirements:
HubSpot Sales Hub Professional (5.000 sequences per account + 500 emails sent daily). For more information about sequences in HubSpot go to HubSpot's own page about Sequences and how to create and edit one – here