Last week, Radiant and Contractbook held a seminar about 'How to achieve efficient B2B sales in times of uncertainty". The seminar aimed to provide insights and strategies for businesses to navigate uncertain times and drive sales efficiently in the B2B market. The discussion covered segment, marketing, channels, practical sales, and existing clients – and included 5 specific do's and don'ts.
Let's take a look at the do's and don'ts!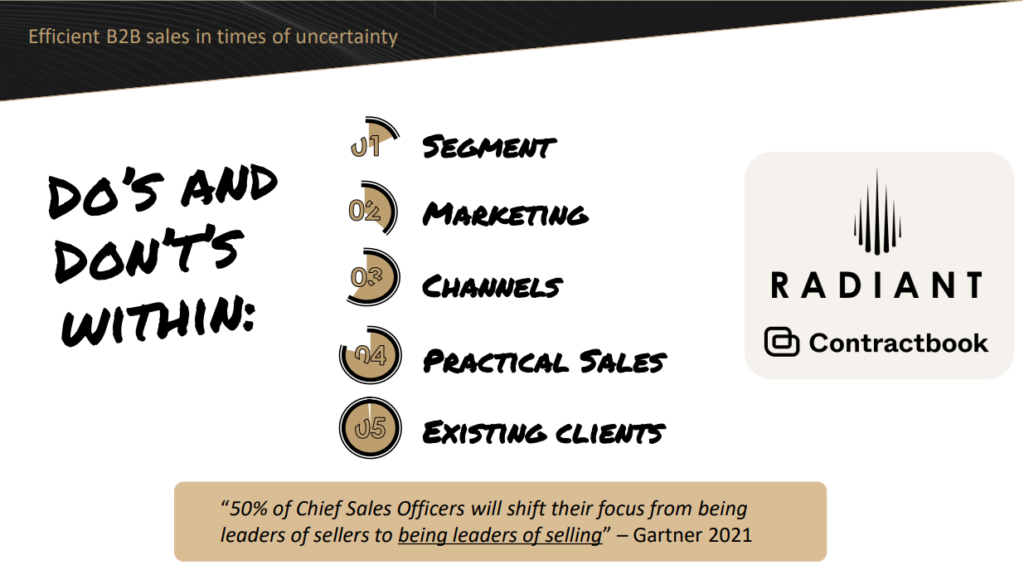 Segment – Focus and disqualify
Finding your ideal customer profile is vital to create efficient B2B sales in uncertain times. However, it is not enough just define it. You have to use it in the right way. In Radiant, we narrowed our client's segments to the extreme, which increased the hit rate by 2,1 %.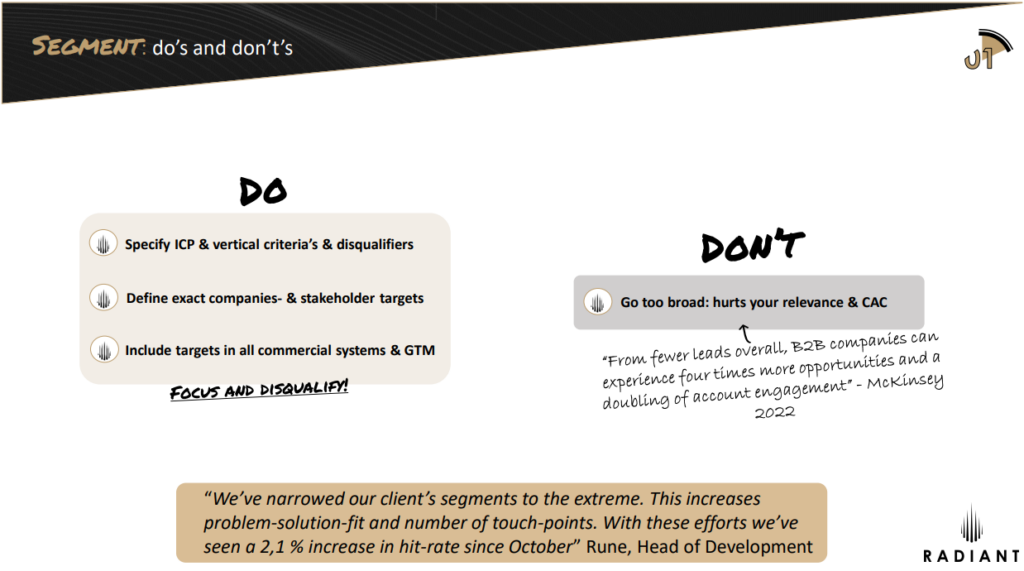 DO:
Specify ideal customer profile & vertical criteria and disqualifiers
Define exact companies- & stakeholder targets
Include targets in all commercial systems & go-to-markets
DON'T:
Dont' go too broad! Hurts your relevance and customer acquisition cost
Focusing and disqualifying your customer segments is crucial to success for B2B businesses that want to scale. It helps ensure resources are effectively allocated to the most promising prospects. Narrowing your customer segments allows you to prioritize and tailor your sales and marketing efforts to those most likely to be the most valuable customers. By eliminating unqualified or low-potential audiences, you can avoid wasting time and resources unlikely to yield significant returns. Going too broad hurts your relevance and customer acquisition cost. Although it may be tempting to go broad, the long-term growth lies in focus and disqualification.
Read more about why ideal customer profile is key to success in a recession!
Marketing – Personalized marketing increases B2B revenue
Due to uncertain times, the B2B marketing landscape has undergone a significant transformation in the last 6-12 months. We see a change in buying behavior and how B2B buyers make purchasing decisions. This leads to a shift in the marketing approaches used by B2B companies because the number of customers actively looking for new software and solution decreased. Therefore, we need to rethink our marketing efforts. Marketing must incorporate value propositions and USPs to tap into problem-solution related to times of uncertainty. The way is personalization to generate demand rather than generating leads. Because of the changing landscape focusing on hard conversion in your marketing effort is not the way to do it.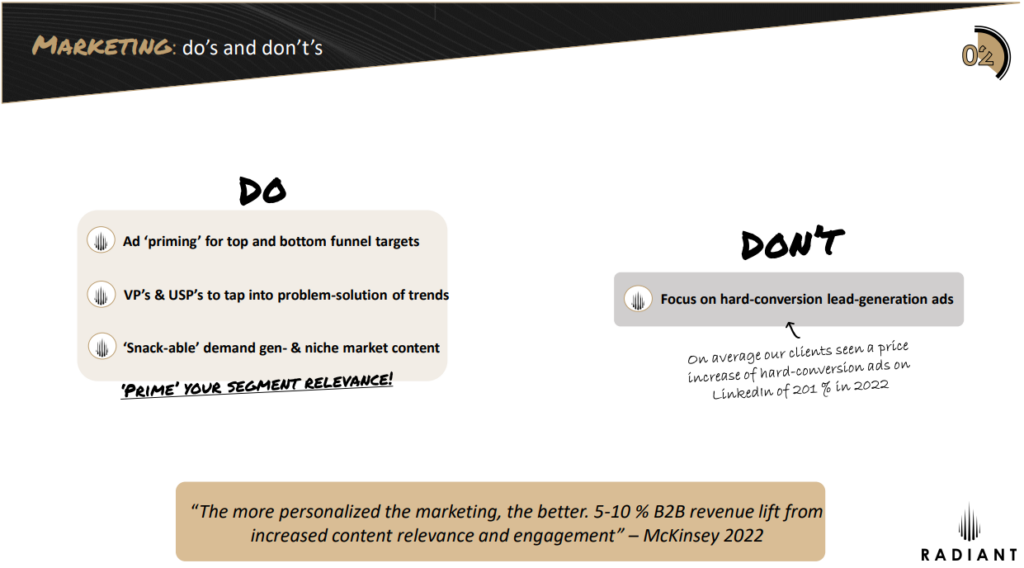 DO:
Ad 'priming' for top and bottom funnel targets
VPs & USPs to tap into problem-solution of trends
'Snack-able' demand gen- and niche market content
DON'TS:
Don't focus on hard-conversion lead-generation ads
Marketing and segmentation are related to that extent. Your content must be delivered to the right audience, and your content must be relevant to the specific business. It has never been more important to control your segmentation in your marketing activities. At Radiant, we have an official partnership with Vainu to ensure that our clients and we can target specific companies and stakeholders in every stage of the marketing activities.
"The more personalized the marketing, the better. 5-10 % B2B revenue lift from increased content relevance and engagement" – McKinsey 2022
Channels – Diversify channels to increase B2B Sales
Single channel no longer works. That's a fact. Hybrid is the new standard whether we are talking about sales or marketing. We have to meet our customers where they are and where they wish to meet. Adapting your customer's favorite channels is essential if you want to scale your business.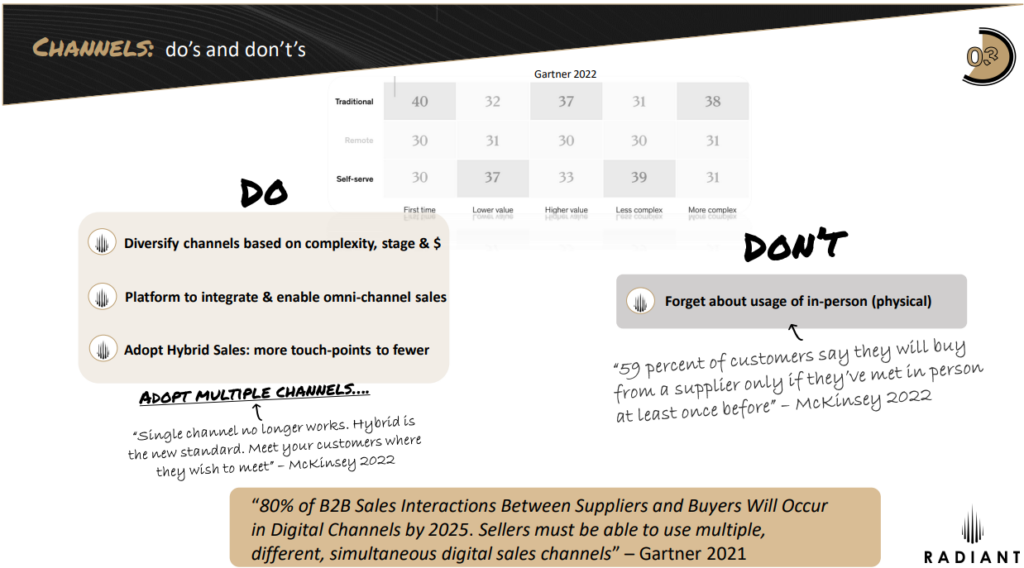 DO:
Diversify channels based on complexity, stage, and price
Platform to integrate and enable omnichannel sales (read more about how HubSpot can be the solution)
Adopt Hybrid Sales: More touch-points to fewer
DON'TS
Don't forget about the usage of in-person
Be where your ideal customer profiles/customers are. Engage with them in communities, marketplaces, and through partnerships. However, we can't neglect in-person meetings and communications with our prospects. Even in the digital age, we are living in. Actually, 59 percent of customers only want to buy from a supplier if they've met in person. It, therefore, requires more of the organization to adapt more channels, but the output is greater than the effort. Therefore, it is also important to remember that quality beats quantity – and make every dollar count.
Want to know more about hybrid sales? Download our Hybrid Sales Process Template
Practical Sales – Sense Making and Hybrid Selling
Say 'hello' to Sense Making. Not a new concept, but more important than ever. Why?
1) It makes it easy to purchase. 2) Helps connect to relevant resources and information. 3) Helps filter and clarify relevant information 4) Helps customers evaluate the quality and reach their understanding of challenges.
So how do we create meaning for our customers in the sales process? With a simple pitch model, it can be done. This model can be used in different settings such as negotiation, introductory dialogue, marketing, or even in conversations over the kitchen table with the children. However, many forget to use it in practice. With the steps 'unique', 'problem', 'trends', 'solution', and 'FOMO', you can help customers navigate and make sense of your solution, which leads to higher win rates.
Want to know more about the pitch model? Download our sales tool 5-step pitch model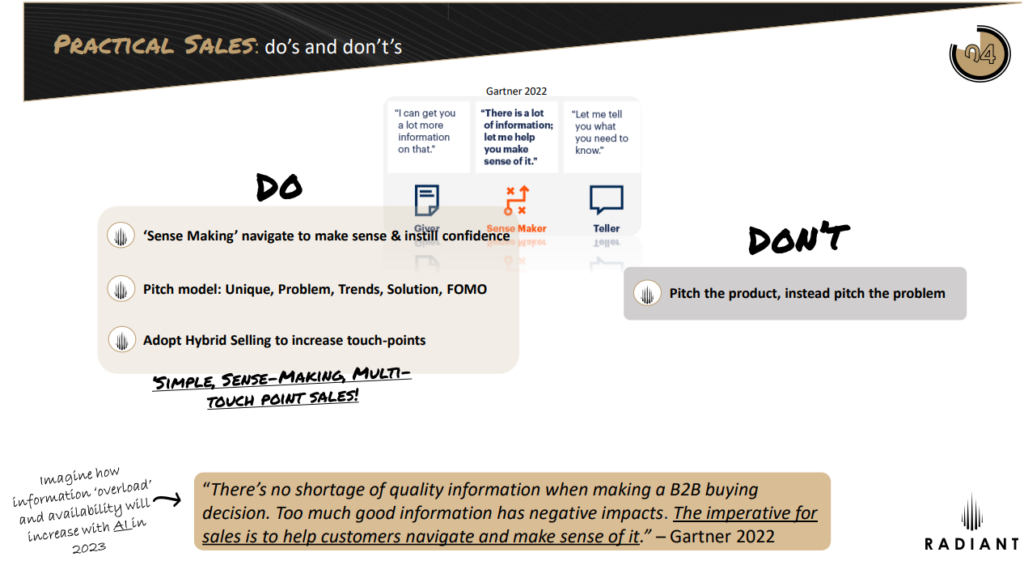 DO:
'Sense Making' navigate to make sense & instill confidence
Pitch Model: Unique, Problem, Trends, Solution, FOMO
Adopt Hybrid Selling to increase touch-pints
DON'TS:
Don't pitch the product, instead pitch the problem
In our pitch, we must focus on pitching the problem and not the product. Why? Because it creates consensus that precisely our solution can remedy the challenge that has just been addressed. We need to talk about their situation. Not about our own. Think of it in another way. Do you want to talk to someone in person who only talks about himself?
Sense Making
"The single biggest driver of purchase likelihood in a B2B sale is the degree to which customers feel confident about their own decisions" – Gartner 2021
Existing Clients – The low-hanging fruit to increase B2B sales
We often forget our greatest assets. Our existing clients. When we talk about growth, we must never forget the existing customer base, which can be one of the biggest drivers for driving growth.
We experience 24-37 % better total ROI in net-new ARR revenue generated for those of our clients that allow us to engage with existing in their commercial platform for cross- and up-seeling.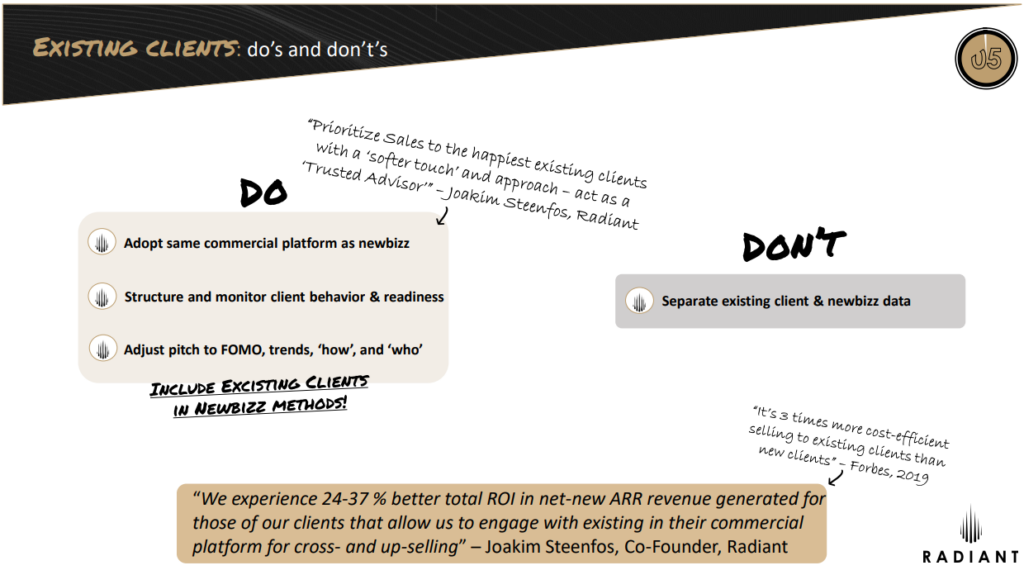 DO:
Adopt the same commercial platform as newbizz
Structure and monitor client behavior & readiness
Adjust pitch to FOMO, trends, 'how', and 'who'
DON'TS:
Don't separate existing client & newbizz data
So how do we create growth through our existing customer base? In short, we must adopt the same commercial platforms and structure and monitor client behavior in the same way as we do with newbizz. And don't forget to use the pitch model. Prioritize sales to the happiest existing client with a 'softer touch' and approach can become one of the most important factors in creating long-term growth.