In this article we will go through email marketing in HubSpot and why you should do your email marketing in HubSpot. You will find guides, knowledge and tips to get started.
What is Email Marketing?
First of all, what is email marketing? Email marketing is a digital marketing strategy that involves sending emails to prospects and customers. It's a direct form of communication designed to promote products, share news, or build a relationship with the audience. Effective email marketing can convert prospects into customers and turn one-time buyers into loyal, raving fans.
In other words, email marketing is basically just marketing in your email-box – meaning you will receive emails from companies in your inbox.
What are the Different Types of Email Marketing?
Within email marketing there are different types and here are some of the common ones:
Promotional Emails: These are emails about offers, sales, and promotions. They aim to drive immediate action, such as a purchase.
Newsletters: Regularly sent emails that provide updates, news, or content. They're great for keeping your brand top-of-mind and building ongoing engagement.
Welcome Series: Emails sent to new subscribers or customers, introducing them to the brand and setting expectations.
Transactional Emails: Triggered by a specific action, like a purchase or account creation. Examples include order confirmations, shipping notifications, and password resets.
Re-engagement Emails: Targeted at inactive subscribers, aiming to bring them back into the fold.
Abandoned Cart Emails: Sent to customers who added products to their cart but didn't complete the purchase.
Personalized Recommendations: Emails suggesting products or content based on the recipient's behaviour or preferences.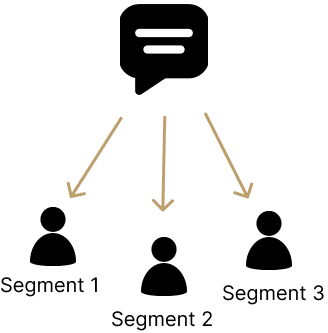 Why Do Email Marketing from HubSpot?
The answer should be simple, because of course you should you communicate with your customers from the database with all the information on your customers.
Integrated Platform: HubSpot offers an all-in-one solution, integrating it with a CRM, landing pages, analytics, and more. (As an example you can create variables on landing pages so that the recipient's name will be shown on the page if you have built your landing page in HubSpot.)
Ease of Use: HubSpot's drag-and-drop editor makes designing emails simple, even without technical expertise.
Segmentation: Easily segment your contacts based on behaviour, lifecycle stage, or any custom property, allowing for targeted and personalized email campaigns.
Analytics: HubSpot provides detailed analytics on email performance, including open rates, click-through rates, and conversion metrics.
Automation: Set up automated email workflows to nurture leads, onboard new customers, or re-engage inactive subscribers.
How to Do Email Marketing in HubSpot?
If you have decided to do your email marketing in HubSpot you can follow this guide to get started.
Log into HubSpot: Navigate to your HubSpot dashboard.
Access Email Tool: Go to "Marketing" in the top menu and select "Email."
Create New Email: Click the "Create" button and choose the type of email you want to create (e.g., regular or automated).
Design Your Email: Use the drag-and-drop editor to design your email. Add text, images, CTAs, and personalize content.
Segment Your Audience: Choose the list or segment of contacts you want to send the email to.
Optimize for Deliverability: Ensure your email is optimized for spam filters. HubSpot provides a checklist to help with this (this could include not having too many links or don't send large files).
Test Your Email: Send test emails to ensure everything looks good and all links work.
If you need more guidance to set this up in Hubspot follow HubSpot's own guide to, creating marketing emails
Note: You will of course need one of the HubSpot Hubs, however, we see most use email marketing with HubSpot Marketing Hub.