What is a Sales Automation?
Sales automation refers to the use of software or digital tools to automate repetitive and time-consuming tasks in the sales process. This can include activities like lead scoring, data entry, follow-up emails, appointment scheduling, and more. The primary goal of sales automation is to streamline operations, reduce manual efforts, increase efficiency, and ultimately drive more sales.
What is HubSpot Sales Automation?
HubSpot Sales Automation is a tool that helps organizations automate and streamline their sales processes. It provides a suite of features that allow sales teams to manage and track deals, send personalized emails, and schedule tasks and follow-ups. With HubSpot Sales Automation, sales teams can focus on high-value activities like building relationships and closing deals, rather than spending time on manual, repetitive tasks and other administrative work.
Why use HubSpot for my Sales Automations?
Intuitive Interface: HubSpot offers a user-friendly platform that makes setting up and managing sales automations straightforward, even for non-tech-savvy users.
Comprehensive CRM: HubSpot's CRM seamlessly integrates with its sales automation tools, ensuring that all customer data and interactions are centralized and easily accessible.
Personalization: HubSpot allows for personalized email campaigns, ensuring that leads receive content tailored to their interests and behaviors.
Seamless Integrations: HubSpot can integrate with a wide range of third-party tools and platforms, enhancing its automation capabilities.
Scalability: Whether you're a small business or a large enterprise, HubSpot's sales automation tools can scale with your needs.
A/B Testing: Test different sales strategies and messages to determine what resonates best with your audience.
Detailed Analytics: Gain insights into your sales process, identify bottlenecks, and continuously optimize your strategies with HubSpot's robust analytics.
Training and Support: HubSpot offers extensive resources, tutorials, and customer support to help businesses make the most of their sales automation tools.
All-in-One Solution: Beyond sales automation, HubSpot offers marketing and service automation tools, providing a holistic approach to managing and growing your business.
In summary, sales automation can significantly enhance the efficiency and effectiveness of your sales process. HubSpot, with its comprehensive suite of tools and features, is a leading choice for businesses looking to implement and benefit from sales automation.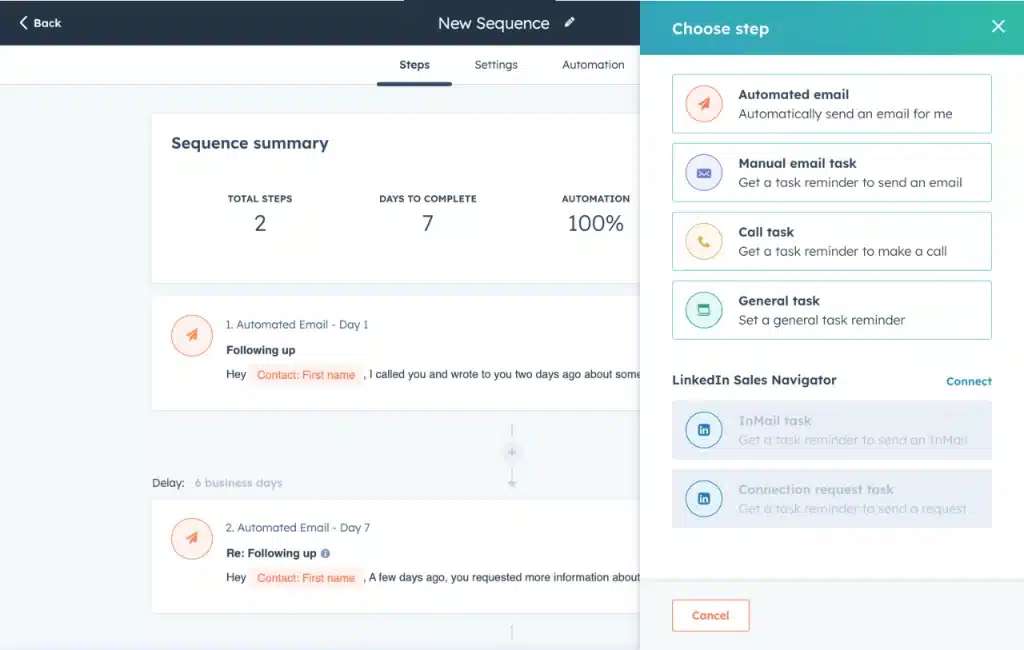 How do You Use HubSpot Sales Automation?
Using HubSpot Sales Automation is easy and straightforward. Here is a step-by-step guide on how to get started:
Sign up for a HubSpot account and set up your sales pipeline.
Create custom fields and properties to track the information that is important to your organization.
Import your existing deals and contacts into the system.
Set up your automated email templates and workflows.
Use the HubSpot Sales Hub to manage and track your deals, send personalized emails, and schedule tasks and follow-ups.
Who Uses it?
HubSpot Sales Automation is used by a wide range of organizations, including B2B companies in the SaaS, finance, professional services, and tech industries. These companies rely on the tool to streamline their sales processes, improve productivity, and drive growth.
Examples of Using HubSpot Sales Automation?
Let's say you're a person working with Sales at a salesperson at a B2B SaaS company. You are managing a large deal that is in the final stages of the sales process. Using HubSpot Sales Automation, you are able to automate much of the work involved in closing the deal.
First, you set up a workflow that sends a series of personalized emails to the customer, providing them with the information they need to make a decision. These emails include links to product demos, case studies, and pricing information.
Next, you use the tool's built-in task management features to schedule follow-up calls and meetings with the customer. You can set reminders and due dates for these tasks, so that you never miss an important step in the process.
Finally, when the customer is ready to sign the contract, you can use the tool's quote-based workflow feature to automatically generate a professional-looking quote and send it to the customer for review.
Is it Difficult to Use HubSpot Sales Automation?
Easy-to-medium.
Sales Automation in HubSpot is not that difficult to use. The tool has a user-friendly interface and comes with a a lot of resources and support to help users get up and running quickly. It also offers step-by-step guides and tutorials on how to use its various features and customize workflows to fit your specific needs.
If you do encounter any difficulties, you can contact the HubSpot support team for assistance. The team is made up of experienced professionals who are dedicated to helping you get the most out of the tool with great SLA response.
Radiant results:
Low-to-medium implementation time. But the high value to use sales automation for your pipeline correctly.
At Radiant, we're currently using it in 96% of the HubSpot platforms under our administration.
Setting an automated task to re-engage with a contact after setting the deal in the 'closed lost' stage – and then winning it 6 months later (because of the automated task) is potentially game-changing!
Click here to read more about how Radiant use HubSpot for success
Radiant Rating and Recommendation:
8/10 – really good! Worth it! Especially if you have a transactional or Hybrid B2B Sales process – or if you have multiple departments/people engaged in stakeholder management and pipeline management.
Requirements:
'Sales Hub Professional' if you want customizable HubSpot Sales Automation (then you'll get up to 300 fully custom workflows!). If you just want simple triggers of e-mail and tasks, then you can use 'Sales Hub Starter'.
How Radiant as a Top-Tier HubSpot can Help You
As a top-tier HubSpot partner, Radiant can help you implement HubSpot Sales Automation and get the most out of the tool. Our team of experts has extensive experience working with Sales Automation tools and can provide you with guidance and support throughout the implementation process.
We can help you set up your sales automation tailored to your pipeline and customize workflows to fit your specific needs. We can also provide training and support to help your team learn how to use the tool and take advantage of its full range of features.
By working with Radiant, you can be confident that you are getting the ultimate in sales automation technology, backed by the expertise and support of a top-tier HubSpot partner. This will enable you to achieve high-performance results, boost growth, and scale your organization.