In today's fast-paced business world, having the right tools and technology is essential for success. One of the key tools that many companies rely on is HubSpot, a powerful platform that offers a range of tools and features to help businesses grow and succeed. We will, therefore, be focusing on one of the key features of HubSpot within the Sales Hub: customizable quotes.
What is HubSpot Customizable Quotes
HubSpot customizable quotes are a feature that allows you to create professional and personalized quotes for your customers quickly and easily. With this feature, you can create quotes that are tailored to the specific needs of each customer, which can help to improve their chances of winning the sale. The quotes can be customized with the customer's name, company name, and other relevant details, as well as with images, logos, and other branding elements.
Benefits of using HubSpot Customizable Quotes
There are many benefits to using HubSpot customizable quotes. One of the key benefits is that it can help you to improve your sales process. By providing personalized quotes, you can strengthen your impression of your customers and increase the chances of closing the sale. Additionally, using customizable quotes can help you to save time and effort by automating the process of creating quotes. This can free up valuable time and resources that can be used to focus on other areas of the business, such as customer service or marketing.
Another key benefit of using HubSpot customizable quotes is that it can help you to scale your operations. As businesses grow and expand, they may need to handle a larger number of quotes and sales. With customizable quotes, businesses can easily create and manage a large number of quotes without sacrificing quality or accuracy. Additionally, this can help you to maintain high-performance results and continue to grow and succeed.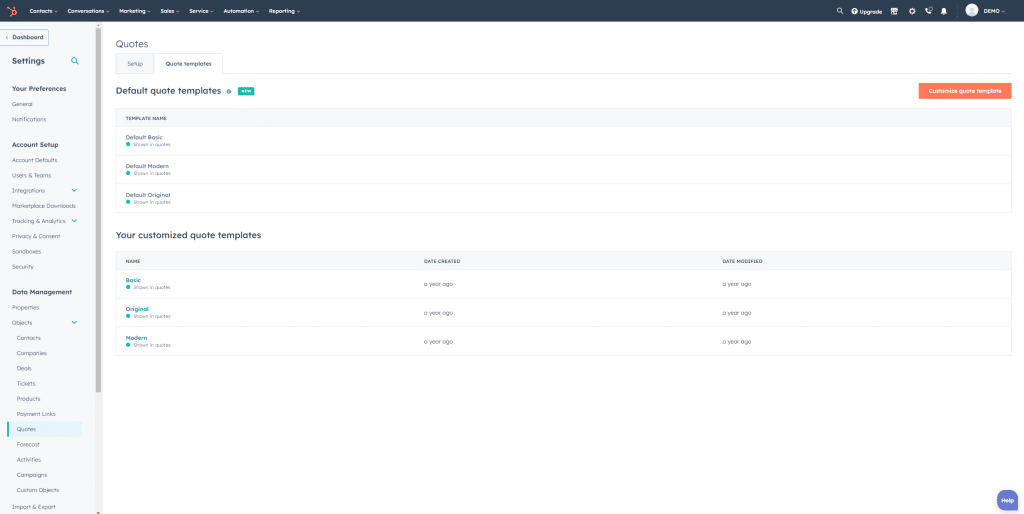 How to use it
HubSpot customizable quotes are a tool that allows users to create professional, customizable quotes for their clients quickly and easily. Here is a step-by-step guide on how to use this powerful tool:
Click the settings icon in the main navigation bar and select "Objects > Quotes" from the left sidebar menu.
Select the "Customized quote templates" tab and click "Customize quote template".
Hover over the template you want to use and click "Choose".
Click the edit pencil icon at the top to name your quote template.
Use the left panel to edit the module contents, including line items table and customizable modules such as images, text, and headings.
Click the Settings tab to set a default domain, language, and locale for your quote template.
Edit the color, font, button, and banner styles under "Edit theme settings".
Click "Save" when you're done customizing your quote template.
Your team can now select the customized quote template when creating a quote, and you can share your quote with your contacts after publishing.
An Example where the Customizable Quotes are Relevant
HubSpot customizable quotes are used by a wide range of B2B companies, including those in the SaaS, finance, professional services, and tech industries. These companies often have complex products or services that require detailed quotes to properly convey the value to their clients. Using HubSpot's customizable quotes allows them to create professional, accurate quotes quickly and easily, which can help boost their growth and improve their high-performance results.
If you have any question regarding HubSpot or above mentioned feature, don't hesitate to contact us.