By optimizing the sales process from A-Z – along with our best-in-class sales materials – we created a better foundation for acquiring new customers 
Customer: Wealth Management
The industry around private asset management is in general characterized by a great deal of competition – and a need for differentiation. Furthermore, customer relationships are often based on a high level of trust due to the fact that one is managing personal assets.  
This customer was particularly challenged by inefficient sales processes, where difficulties in closing potential sales opportunities became the main result. In addition to that, they didn't have the right sale-tools to create an alignment in the day to day communication with customers.
Through well-adjusted CRM-structure, scoping of leads and customers, detailed market segmentation and our best-in-class sales materials, we structured and optimized their sales process form A-Z
.
By optimizing the sales process from A-Z – along with our best-in-class sales materials – we created a better foundation for acquiring new customers 
5

A greatly increased awareness in the market among the direct and relevant decision makers were achieved

5

The KPI-goals set for collaborations as an outcome of sales meetings with relevant companies were achieved

5

Optimized best-in-class sales materials - including presentations, sales materials and customer cases

5

All sales data from individual files were moved to a cloud-based CRM-system - thereby creating a greater accessibility and a better overview.

5

A greatly increased focus on growth became a reality - as well as new sales across the entire organization were achieved

5

An alignment in communication with potential customers was created by a preparation of competitor analysis, unique VPs and intentional e-mail templates

5

A new, unique and personalized website was developed - based on the customer's specific needs and wants
"Radiant demonstrated high competencies and strong skills  within the CRM-architecture – as well as a great sense of details. They helped us identify and communicate our unique selling points as well as our visual identity. Furthermore, they helped us implement these in both our customized e-mail templates, in our sales materials, on LinkedIn and on our new website"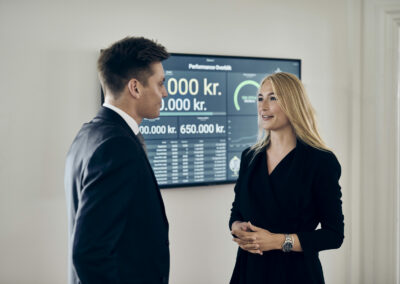 Case:Record AUM Year: Solution Digital Sales Process A-Z in HubSpot CRM: Record AUM: Segmentation and Selection of ...