Succes med salg af platform til verdens velhavere 
Fintech har taget fart i Norden, hvilket har medført øget konkurrence, såvel som differentieringsudfordringer. De konsoliderede Fintech virksomheder er præget af legacy fra den traditionelle finansielle sektor.  
Kommerciel tilgang med rødder i den finansielle sektor begrænsede skaleringsmulighederme. Salg gennem netværk i kombination med ineffektiv leadgenerering og salgsproces medførte stagnerende selvtillid og vækst. 
Kompleks arv af CRM,- salgssystemer – og organisation, blev erstattet af et digitalt, simpelt og effektivt salgsøkosystem, hvor prioriterede segmenter og budskaber blev eksekveret systematisk. Det vandt kultur og kunder. 
Indfriet business case til organisk vækst med indeks 139 efter 18 måneder 
5

Udskiftet Dynamics til HubSpot CRM integreret i hele værdikæden

5

Digitaliseret og automatiseret salgsprocessen fra A-Z

5

Markedsføring og budskaber er gennemgående strømlinet efter kundekategorier- og kundebehov

5

Øget leadgenerering med + 340 % og konvertering med 14 % point

5

Højeste omsætning og EBITDA i firmaets levetid i 2020

5

Medført besparelser på andre ikke-målrettede markedsaktiviteter

5

Kulturel forandring med fornyet selvtillid og tiltro til kommercielle ben
"Radiant demonstrated black-belt proficiency level of our CRM implementation, truly standing-out with their enthusiastic can-do attitude and deep know- how of solid Sales best practices, in particularly at the early sales-stage.
Radiant is a true Sales Excellence Champion for any B2B company aspiring to launch sales to the next level."

CxO – Fintech top 5 DK
November 12, 2020
139%
indeks ift. målsætninger
144.309
DKK i gns. recurring ordresum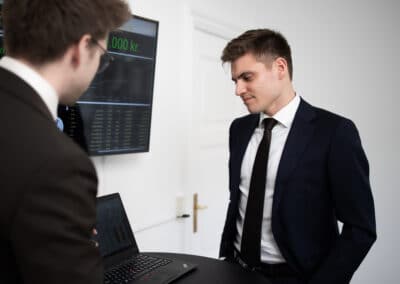 Case: Optimering af salgsproces fra A-Z og best-in-class salgsmaterialer skabte bedre grundlag for at få nye ...